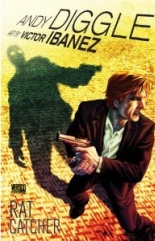 RAT CATCHER is another in Vertigo Crime's series of wonderfully intense and suspenseful graphics novels incorporating some of the finest writers and artists working the field today. This one is a bloody and breathless story of betrayal and retribution that starts off with a bang and rarely lets up until the conclusion.
A fire breaks out in a house on a deserted stretch of road outside of El Paso, Texas. As the investigation begins, it is revealed that the location was a federal safe house, and one of its current residents was a criminal due to provide states' evidence against a high-ranking mob boss. Moses Burdon, an aging FBI agent specializing for many years in witness protection, arrives on the scene in search of his partner, now feared dead from the blaze.
For as long as they worked together, Burdon's partner believed in the Rat Catcher, a shadowy hit man who targets potential mob snitches. Since there has never been enough hard proof of the Rat Catcher's existence, many federal agents are positive he's just a myth. Now Burdon feels the Rat Catcher is a reality, especially when it is discovered that somebody survived the fire and is on the run.
The survivor might be Burdon's partner. Or it might be the Rat Catcher himself, seeking payback for a possible frame-up by the mob boss. Whatever the case, Burdon and other law enforcement officers chase the survivor through the West Texas Badlands as the case become more complicated and more dead bodies pile up.
 
Andy Diggle, best known as the author of THE LOSERS comic series (and basis for the underrated film adaptation), is no stranger to stories where those on the side of the law are suddenly left on their own with few insiders they can trust. He is inventive enough to keep some surprising plot twists under wraps until they add the most effective weight. Additionally, Diggle cross-cuts between locations and events — and, at one point, an essential flashback — with an unrelenting pace reminiscent of your favorite crime thriller screenplay.
Victor Ibanez ably assists the story with his sharp-focus, black-and-white drawings utilizing a variety of panel sizes and sometimes full pages for optimum shock effect. His character and location depictions are easily convincing and in perfect harmony with Diggle's plot and dialogue.
 
RAT CATCHER will easily win high favor with comic fans, especially those who prefer crime/mystery-oriented graphic stories. They should pass it along to those crime-fiction fans who have yet to be initiated into graphic novels. It provides the same satisfying rush as a well-made movie you can't wait to see again. —Alan Cranis