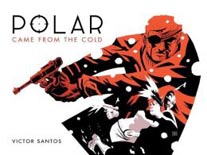 Comics and noir are a great match. The visual storytelling and the bleakness of noir just mesh so well. Author and artist Victor Santos' POLAR: CAME FROM THE COLD is a brutal spy story.
Black Kaiser is an aging spy, and as anyone who has read any sort of spy fiction knows what that means. There are no such things as elderly spies, and Black Kaiser is a man who, when crossed, is going to finish the job.The Dark Horse Comics release is a straight-up, "you took your shot, now it's my turn" story.
This story is packed with some pretty brutal moments. We find Kaiser meeting up with those who are trying to permanently delete him. Throughout, POLAR reminded me of the work of Jim Steranko, with visuals that tell the story with no or very little dialogue on some pages. You know that Santos has found a style with a color palette that hangs very heavily in a world that's black, white and orange. A few pages even resemble noir meets Jackson Pollock.
This is definite must for not only comic fans, but spy-fiction readers who will wish there was a stack of prose books featuring these characters. Even in the short time frame of the book, you sense these characters are fully developed, which just shows that sometimes the visual element is the best type of storytelling.
There is an added short story which is even more influenced by Jim Steranko's storytelling than the main one. I'm hoping that Santos continues with this type of work. —Bruce Grossman