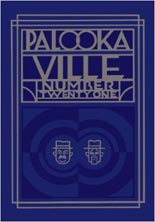 This volume is my first personal brush with PALOOKAVILLE. I have a good friend who has been a longtime fan of basically everything Drawn & Quarterly (the publisher) puts out, so I've been vaguely aware of it for quite some time. I've often heard the title of Seth's award-winning collection, IT'S A GOOD LIFE, IF YOU DON'T WEAKEN.
And it's this vague awareness that caused me to dub it both "navel-gazey cartoons" and "sad bastard comics." I'd like to say I learned a lesson about judging books by their covers (or a cursory look over a friend's shoulder), but I didn't. These things are, indeed, the most sad bastard of sad bastard comics.
That's not to say that the subject matter isn't compelling or the cartooning masterful. Both are true! Seth has earned his reputation as a master cartoonist and an interesting writer, and both are on full display here.
There's a part of a long-running serial in this 21st volume that I can't possibly understand all the ins and outs of, but nevertheless found this part of the tale fascinating. There are a several pages from a "rubber stamp diary" where Seth collected his thoughts in strips made predominantly from rubber stamps he designed and commissioned. They're meant to be more a diary of thoughts than catalog of finished work, but the rough style and inner musings combined to give the whole enterprise an undeniable realness.
The third and last section of the book is a collection of strips called "Nothing Lasts," where Seth documents the various moves from house to house (his father apparently had nomadic tendencies, sometimes merely moving up the street) and the corresponding moves through childhood. Again, the line work is beautiful and the words are obviously deeply personal and insightful.
But good heavens, they are so sad! Everything drips with ennui and quiet desperation. Even when Seth discusses the pleasure of solitude, the roar of loneliness drowns out the quiet whisper of happiness. In the end, PALOOKAVILLE left me feeling both touched and vaguely disquieted, as though I'd heard something deeply sad from a stranger while I waited for a bus or cup of coffee.
I might have been the wrong person to review PALOOKAVILLE. In the end, I can appreciate its craftsmanship, even if I can't actually say I enjoyed it very much. I fully expect someone in the comments below to decry me as shallow or a philistine. If I am, I don't think labeling PALOOKAVILLE as "sad bastard comics" is going to be the final decision maker. I have to have "gotten it" on some level. You can't give a label that accurate while totally missing the point. —Joshua Unruh