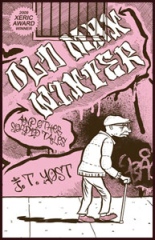 There's a real poignancy to the work of J.T. Yost, whose OLD MAN WINTER AND OTHER SORDID TALES has deservedly been honored with a 2009 Xeric Award. The 56-page paperback is comprised of five stories, all but one of which give a grim, but completely honest, view of humanity.
It's anchored by the title story, the longest of the bunch, in which an elderly man occasionally ventures from his lonely apartment to interact with the few people who will give him the time of day. He's in mourning over the death of his wife, but insists on clutching to the illusion that she still exists. In one heartbreaker of a panel, he's shown sleeping in bed, with the ashtray she once used situated on the pillow next to him.
Free of dialogue, "All Is Forgiven …" shows the measures taken by an animal researcher when his significant other dumps him via a "Dear John" letter. In "Logging Sanjay," both the lone humorous and autobiographical piece of the collection, Yost relates of a high school prank taken a little too far, and finally fesses up to his involvement.
"Roadtrip" is brilliant, telling a dual narrative in the life of a little girl and a small cow, with each panel illustrating the juxtaposition between them. For example, the girl is introduced as an infant, feeding at her mother's breast; the cow, sucking on its mother's teat. The girl is placed in the backseat of her parents' car; the cow is forced into the back of a truck to take it to slaughter. The girl is stripped of her clothes at nighttime; the cow is stripped of its skin. And so on, until the two inevitably meet — one as meat. It's incredibly clever and powerful, all the more so without words.
Finally, there's another mirrored narrative story in a circus-centered bit that shows how one man and one elephant joined the circus, under entirely different circumstances. All five pieces introduce Yost as a remarkable new talent — in both story and pen — using comics to tell challenging, thoughtful tales. —Rod Lott