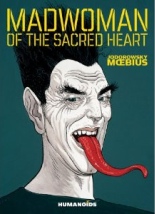 Jean "Moebius" Giraud is dead. Perhaps best known in the U.S. for his SILVER SURFER: PARABLE, his importance and influence over the European comics scene is immeasurable.
Case in hand is this remarkable piece of undiluted, effervescent and life-affirming genius he concocted in collaboration with filmmaker/shaman/madman Alejandro Jodorowski: MADWOMAN OF THE SACRED HEART.
Being the story of a middle-aged professor of philosophy whose life and spirit are broken by a succession of unfortunate events, only to be rebuilt by his divinely guided (or possibly insane) student. To try and summarize the layered storyline is a preposterous idea, but it does involve the rebirth of John the Baptist, a Colombian drug czar, a horny externalization of our hero's superego, and a running gag about explosive diarrhea.
While the book at times plays like a precursor to David Mazzucchelli's ASTERIOS POLYP, this is a completely different type of a beast, equally impressive and layered but running on a totally different track. Like
Luis Buñuel, Jodorowsky has the ability to harness dreams and illusions into a non-religious spirituality. He tackles philosophical ideas through off-the-wall humor, lack of sentimentality while taking a perverse joy in providing Zen-master jolts of mystifying shock to the reader's frontal lobes.
This new trade paperback volume from Humanoids is stunningly beautiful, intelligently translated and retains the original (non-computerized) coloring. The paper is thick and slightly textured, the kind that doesn't get smudgy with fingerprints or reflect badly in sunlight.
If there is a negative to this release, I wish it had some information about the history of the publication, given that it clearly spans some years. Moebius' style changes through the three parts of the long story, and as a result, ends up being something of a showcase of his penmanship throughout the years.
I wholeheartedly recommend MADWOMAN OF THE SACRED HEART for the
adventurous adult reader. If you're interested in either classic or new European comics, there has rarely been a better time for either in the American marketplace than today. We're seeing a steady stream of spectacular work by masters old and new from a wide variety of publishers.
By supporting these publishers, you can make sure more of these gems get released from the vast hidden vaults hiding behind language-barriers. Long live Moebius. —JT Lindroos