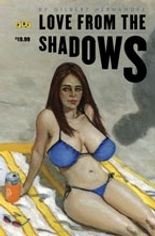 From the ever-expanding world of LOVE AND ROCKETS, Gilbert Hernandez's LOVE IN THE SHADOWS is the third in a series of graphic novels from Fantagraphics, depicting B movies starring the over-the-top-heavy, lisping beauty Fritz, so why not review it like one?
LOVE IN THE SHADOWS is somewhat inappropriately titled, as it sounds like a romance, but is really a sci-fi sex mash-up, with a big dash of David Lynch-ian "what the fuck just happened here?" It's definitely no chick flick, despite its strong female lead. Women will hate it; guys may love it strictly for "the scenery."
Dolores (played by Fritz) and her gay brother have dad issues. Their relationship is rocky, to say the least, but it's less tenuous than the various elements Hernandez strings together to form a near-shapeless plot of a cave of mystery, aliens who barrage our starlet with questions, an inexplicable change in hair color, dealings with swarthy bad guys, and a whole lot of jumping from bed to bed.
Don't expect SHADOWS to make a whole lot of sense. Do expect, however, for Fritz to show the goods, appearing full-frontal in several scenes and swinging her pendulous breasts as if she's earning overtime pay. Unseen since the heyday of Russ Meyer, they're marvelous special effects for a film too low-budget to afford any. Just enjoy the view. —Rod Lott