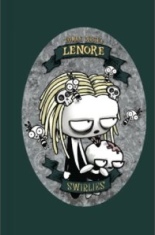 Roman Dirge's fourth LENORE collection, SWIRLIES, is the first to feature some of the new issues recently published. Don't quote me on that, however, because the book doesn't make that clear. I just remember one of them looks like a single issue that arrived last year as we were moving homes and got put in a box of books that made it to the new house … but not past the patio which then got rained on that night. Sorry, issue.
My wait was worth it, because as with the three previous hardback collections — NOOGIES, WEDGIES and COOTIES, for those keeping track — the bizarre adventures of Lenore, the Cute Little Dead Girl, are as satisfying as they are twisted.
And yes, the main character is really a dead girl, so twisted they begin, and more twisted they become. How else to classify such instances of:
• a kid killed at a birthday party by an errant cake knife?
• the same kid then accidentally becoming a floating piñata?
• at hot dog sailing into a horse's butthole?
• the same horse then trampling a couple of children?
Mind you, that's just the first story.
SWIRLIES comes complete with four full issues reprinted in color, covers included, and lots of bonus material that's too delightfully demented in its own right to be considered filler.
But Lenore herself is what makes the series so winning, and here we find her re-enacting the "Ten Little Indians" song in her own fatal style, lamenting the loss of her "hair hobo" (quite literally, a hobo residing in her hair), touring a crush's Cupcake Castle, mistakenly gifting nards (not cards) on Valentine's Day, and being present at what may be the best barb ever made at the expense of THE CROW.
Dirge's sense of humor requires a hearty love for the macabre and a well-told sick joke. (That's me!) His art has remained consistent throughout the run — cute, but creepy — and he has a way of making his panels come alive with the illusion of motion. This is a gem of an indie comic worthy of a million disturbed pairs of eyes. —Rod Lott