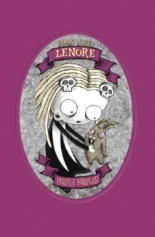 Boasting cameos from Spam Witch and cobras sporting tiny maid hats, LENORE: PURPLE NURPLES is the fifth collection of adventures of Roman Dirge's little dead girl character. The book is yet another winner — one of indie comics' most criminally underrated/under-the-radar/unknown series, in my opinion.
Of the four issues here, the first half is devoted to Lenore and friends' fight against the Creepig. The pig monster is "the vengeful embodiment of pork gluttony. It can't be stopped. It can't be reasoned with. It can't be killed." But it can inspire one of medium's greatest poop jokes, and does.
Lenore incurs the Creepig's wrath by eating a bacon-wrapped hot dog after midnight, which is as good a clue as any to Dirge's wavelength of humor: silly, but damned funny. His handwritten word balloons belie the serious craft of rhythm in his dialogue. He's a master of comic timing — not easy to do in a static format — and visually, somehow manages to make many of his panels pop off the page with movement.
Chapter three depicts another super-funny supernatural battle, this time with "The Dweller in the Fridge." The final story, "King for a Day," deals with a serial-killer standoff; while it's a little too loose and haphazard compared to the others in NURPLES, I still got several laughs out of it.
As with Titan Books' previous four hardcover volumes, this one is rounded out with pages of extras at the back. This time, it's all art. And while all that art is good, Dirge's bonus strips are missed. —Rod Lott