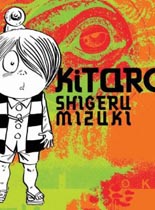 You're forgiven in advance for hearing the name Kitaro and thinking of the Grammy-winning Japanese New Age musician. But let us correct that so that from here on out, you'll think instead of Shigeru Mizuki's pioneering manga character. You're welcome.
Kitaro first surfaced in 1959, yet Drawn and Quarterly's 432-page collection of the horror comics, simply titled KITARO, marks my initial exposure to him. Splendidly designed and enormously entertaining, it's a hell of an introduction.
Kitaro is a boy, albeit one who is 350 years old and has one eye. As for the orb he lost, well … his father's spirit currently inhabits it. For the reader, that's a loud-and-clear sign that this isn't your ordinary kid-friendy comic; there are plenty more to reveal themselves. You'll see just by scouring the surface of Kitaro's misadventures, which find him facing such foes as a disembodied hand with a mind of its own, a creature that resembles water, vampiric trees, a haunted choo-choo, unruly hair (not his) and any number of requisite giant monsters.
While it may sound potentially frightening to younger readers, it's not; Mizuki tackles all this with the sole intention of having fun, and the approach is infectious. He talks to his audience rather than down — witness such charms as the baseball game in which one team is made up entirely of monsters — yet I suspect it's adults who will wring the most enjoyment from the wealth of contents.
If you found yourself drawn to the supernatural hero of Kazuo Umezu's CAT EYED BOY (minus the mischief), the lighter fare of Osamu Tezuka or, to go more contemporary, the fairy tale-esque treasures of Nina Matsumoto's YOKAIDEN, KITARO is your next "new" favorite. —Rod Lott