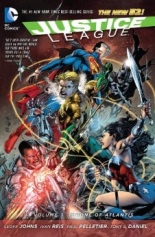 I feel like Meredith Baxter in a Lifetime movie and DC Comics is the spouse I just can't quit. "Look, baby, I just get so scared sometimes," DC says to me. "Come back, just once more? I promise to not make Superman a jerk and to stop pretending that Cyborg makes sense as a member the Justice League in a world without the Teen Titans."
And then DC blacks both my eyes with JUSTICE LEAGUE VOL. 3: THRONE OF ATLANTIS. Call it "barely adequate throne reading."
This eight-issue collection opens with Superman and Wonder Woman sharing an ill-advised kiss. Later, they will go on a date that spans eating at a Smallville diner while in full costume, visiting Superman's childhood home and having dinner. Thrill as romance is ham-fistedly forced between two characters who have both had the same love interests for decades!
At dinner, Wonder Woman delights to discover that civilian clothes and glasses will hide her identity from Joe Sixpack! Chill as Wonder Woman becomes genre-savvy!
Combined with the date, a third of this book is centered on Cheetah and a trip to the Amazon rainforest. Stand in amazement as a second-rate Wonder Woman villain is now strong enough to bite Superman (infecting him with — I kid you not — a were-cheetah disease) and is fast enough to claw The Flash to the bone three different times. Not only is the were-cheetah disease and Flash's implied infection healed essentially off-screen, but this seems like a weird start to a book with the word Atlantis in the title.
Eventually, we do get to the war with Atlantis. There are some interesting ideas here, but none of them are allowed to be more than just vaguely interesting. Cyborg is conflicted about giving up any more of his humanity, like his lung, for more powers. But when he has to save the Justice League underwater, he has the surgery without a second thought. Steve Trevor is apparently out of the Justice League club and everybody is really shocked and/or angry about it, but nobody actually says why.
And then there's Aquaman.
Aquaman deserves the spotlight. He is cool, no matter what SUPER FRIENDS did to his rep. But even though his issues with Atlantis are the crux of this story, they are either undefined or just don't make sense. He has not one, but two trusted advisers who we've never met before, yet should be trusted. Well, we've got two of those, but only one is important. The other is … window dressing, maybe? Aquaman's got an exiled girlfriend, but they never explain why she's been exiled other something about her ancestors? He's got a throne and a brother on it, except that gets resolved because of … punching? I know it's a superhero book, but it isn't even particularly exciting punching.
Which leads to the art. I get the feeling this could be a really good-looking book if somebody would lighten the damn color palette about 20 percent. I turned the brightness up on my tablet for this book and it still looked like I was reading it through a full aquarium. Maybe that was for ambience, what with the Atlantis attack.
Basically, DC's "New 52" experiment continues to underwhelm me, which is especially bad news when you're talking about the flagship team book. I say, if you want some really high-octane, DayGlo superhero action with breathless action and weirdo plots, pick any one of these four books instead. —Joshua Unruh