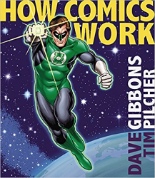 I've never been a big Dave Gibbons fan. I've read, liked and appreciated his work, growing up with 2000AD through WATCHMEN and GIVE ME LIBERTY amongst many other marvels, but to me he's always been like the Kubrick of comics: precise and magnificent, but also somewhat cold and aloof. I like squiggly lines and minor mistakes, more organic and free flowing styles over realism and accuracy. Thus Gibbons' work has always rather eluded me; it's one of the reasons WATCHMEN wasn't the big deal that DARK KNIGHT RETURNS with its fuzzy blobs of stylized ink was.
Having read HOW COMICS WORK by Gibbons and Tim Pilcher, I can't help but declare myself a fan. More of a fan of the man than his art, perhaps, but that's a simple matter of taste. This is through and through a wonderful book, whether you're a reader or creator of comics, whether you're a fan of Gibbons or not. The strongest critique I can lay on the book is that I hate the cover. Even that's likely to just help the sales, so the logic behind it is solid, and what's inside is what counts.
The book is conversational, quick to read and easy to absorb, copiously illustrated with samples from Gibbons' decades of work, and ridiculously usable in a variety of visual arts fields. There is an engineer's mind working behind all this, and those with more sloppy brains have a great deal to learn of the process. I've been tinkering around design and illustrations and comics for a good many years, and while I think I know a lot, every other page of this book I learned something new and or useful.
This isn't to say I agree with everything the book says or suggests, but what it does is illuminate a variety of possibilities that I had never even considered, and hands over easy approaches to those possibilities. As such, it certainly has immediately helped me rewire my brain around new ideas and techniques, and while they may result in work that shares very little with what Dave Gibbons showcases the reader, I don't think he'd mind in the least.
So, if you have any interest in the mechanics behind comics, this'll open your eyes. If you're a fan of Dave Gibbons or any of his comics, this is an absolute must buy. Compiled from conversations he had with co-author Tim Pilcher, this is a beautifully designed, intelligently edited, and thoughtfully structured guide to the wonders and mechanics of the ninth art. —JT Lindroos