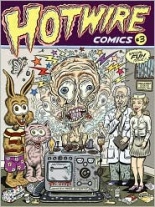 Although I appreciate its anarchic spirit, I'm afraid HOTWIRE COMICS #3 is not the "convuls-o-tronic gutbuster" as noted on the front cover. Edited by Glenn Head, the Fantagraphics paperback is big in page size, big in color, big in imagination, but low on actual laughs.
It gets off to a good start with Michael Kupperman's "Meet McArf!," ostensibly a non-sequitur-laden parody of McGruff the Crime Dog. Sam Henderson's "At a Frat Party or Sports Game or Something Like That" is an agreeable one-pager, but also one joke, and not a lasting one. In a presumably autobiographical piece, Mary Fleener recounts the time she learned how to shoot a gun.
This gives way to my favorite work in the entire anthology, "Keen on a Clown," Rick Altergott's straight-faced satire of romance comics of long ago, only instead of the "bad boy" character, the object of the good girl's desire — much to the dismay of her father — is a circus clown named Priapo, complete with a dildo atop his head. The final page — and especially the final panel — is a killer.
If only the rest of HOTWIRE were as sharp. Unfortunately, it's all downhill from there, with three exceptions: Onsmith's "Dispossession by Tornado," Johnny Ryan's R-rated sendup of THE LOCKHORNS comic strip, and R. Sikoryak doing his MASTERPIECE COMICS thing again, this time jiggering William Shakespeare's HAMLET into a series of single-panel gags starring DENNIS THE MENACE.
Not to sound old, stuffy and/or close-minded, but much of the book is just too gross and/or too pointless. Several works carry interesting art, but no compelling narratives to match, while many seem like they were done under the influence of hallucinogens, when they probably read much better. This is disappointing, given I usually love such collections.
As noted, there are a few gems among the 136 pages, but not enough to recommend it beyond the hardcore underground comix crowd. —Rod Lott