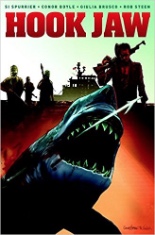 Don't know if you got the memo, but sharks are the new zombies. This summer alone, 47 METERS DOWN made a box-office killing; Syfy unleashed a fifth SHARKNADO movie; and, as with every year before this one, my co-workers would not STFU about Discovery's "Shark Week" programming. More appropriate to this website, Chris Jameson took up the Peter Benchley torch with the paperback thriller SHARK ISLAND, and now, Titan Comics gives us HOOK JAW: VOLUME 1.
No time like the present to resurrect it. Yes, it's a revival — or "reboot," as the cool kids say — of 1970s British comic-magazine ACTION's controversial finned star, who only existed to make bank off Steven Spielberg's monster hit JAWS.
Written by Si Spurrier (X-FORCE, DOCTOR WHO) and with art by relative newbie Conor Boyle, this new HOOK JAW both benefits and suffers from its source-material origins. To address the former and state the obvious, leveraging recognizable properties is Where It's At in today's entertainment biz, making this reboot a no-brainer to greenlight and an easy sell for Titan. On the downside, however, it can't help but be compared to original-recipe HOOK JAW … no matter how hard you try.
And, believe me, I tried.
Spurrier and Boyle did, too; that is evident. Fans' first question likely will be, "Is it gory?" and, rest assured, it is. So what's not to like?
My displeasure with this volume boils down (or bubbles up, if you prefer) to four key points:
1) It's too polished. Much like how many people decry CGI-animated sharks in movies, I prefer some grit to my Great White.
2) It's too story-driven. Stuffed with a surfeit of characters and bogged down by empty dialogue, the plot meandered too far and wide to grip me. Perhaps that is the result of trying to extend a shoulda-been-simple tale — one of seafaring scientists running afoul of modern-day pirates and a big ol' hungry shark — across five issues.
3) We read the shark's thoughts.
4) Point 3 bears repeating: We read the shark's thoughts.
So that's the bad news.
The good news? Titan is releasing the full original series, too. —Rod Lott