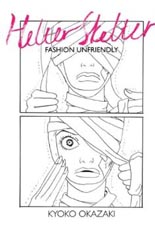 Having nothing to do with that whole Charlie Manson brouhaha, Kyoko Okazaki's HELTER SKELTER is a nine-part serialized manga from 2003 just now seeing publication in the United States, thanks to the tastemakers at Vertical Inc.
The "fashion unfriendly" story centers on Liliko, a blonde supermodel who has it all: high-dollar modeling contracts, a record deal, a growing filmography, the ability to attract any man she desires, a penchant for drugs both swallowed and injected, low self-esteem, bulimia …
Hiding her faults from her adoring public, Liliko knows her body carries an expiration date, yet is doing everything she can to stave that off; says one lovestruck fan, "The only parts she's kept are her bones, eyeballs, nails, hair, ears and twat, pretty much. The rest is all fake."
Could her looking this good this long have anything to do with the "OB/GYN aborted fetal organ trafficking incident"? With the ever-lengthening string of female suicides? With the police investigation?
The answer is obvious, but the way Okazaki gets there is interesting, if a bit repetitive. Her art is nothing fancy, yet endearing; the bubbly cuteness of the characters belies the dark and adult subject matter.
HELTER SKELTER is nothing if not adult. Rightly marked as "AGES 18+" (I'd even up it), the 320-page paperback is filled with couplings (and even a threesome), some of which are between two women, all of which are fairly graphic. SAILOR MOON, this is not. And praise be for that! —Rod Lott