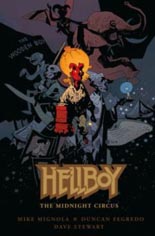 When Mike Mignola brought Hellboy to his earthy demise (in THE STORM AND THE FURY), he promised fans that he would use the opportunity to tell the many "missing" stories of Hellboy's youth, as well as his early days as an agent with the Bureau for Paranormal Research and Defense (BPRD).
So while Hellboy's descent into the realm of his origin continues (in the single-issue series, HELLBOY IN HELL), Mignola treats us to THE MIDNIGHT CIRCUS, a delightfully creepy graphic novella from those promised early years.
The young Hellboy, with horns still in full bloom, escapes the safety of his home at the BPRD and ventures out into the night. Soon, he sees a flyer advertising the arrival of A.T. Roth's Circus Spectacular. His curiosity piqued, Hellboy finds the circus and sneaks into the main tent just as the show is about to begin at midnight.
 
Unlike any normal circus, this one heralds its main performers from the spirit world. Still, Hellboy is spellbound. Shortly thereafter, he meets Mr. Roth, the circus owner and manager, who invites the young Hellboy to join his cast of performers.
 
But Roth has a hidden motive for wanting the young Hellboy in his troupe. He knows, as the supervisors of the BPRD suspect, that Hellboy is the key to what could be an apocalyptic future where evil powers rule the Earth.
 
Mignola utilizes the time-worn "running away to join the circus" theme to great effect. While not completely comfortable in his new world, the young Hellboy discovers through his circus adventure that there are powers in this world far stronger and greater than his understanding. Discovering that there are those who seem to know more about him than he knows about himself — and would use him for some secret motive — adds a confusing and frightening element to the young stranger's already disoriented life.
 
The haunting atmosphere is further enhanced by Mignola's incorporation of the more frightening sections of the Pinocchio story, a book Hellboy remembers reading not so long ago. Indeed, it is his memory of the wooden boy's circus episode that causes Hellboy to question Roth's invitation and escape again into the dangerous night.
 
Duncan Fegredo, a longtime Mignola collaborator, again effectively captures the essence of Mignola's original Hellboy art while adding his own touches by slightly softening Mignola's sharp angles and thereby adding more depth to both the individual frames and several long-shot panels. Dave Stewart's coloring is heavy on red and other dark pigments, all of which are familiar to longtime Hellboy fans.
 
If this new work is any clue, there is apparently a lot more to the Hellboy saga than previously known. So stories like THE MIDNIGHT CIRCUS will go a long way toward easing the loss of this innovative and much-loved character's main story arc.
An essential addition to any Hellboy collection. —Alan Cranis