A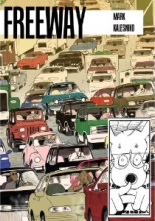 lex Kalienka, the inexplicably dog-faced protagonist of Mark Kalesniko's graphic novel FREEWAY, spends the entirety of the story stuck in his car in the thick of Los Angeles traffic, and this thick, 414-page volume does its damndest to make you feel every excruciating minute of his journey. And that is both the creative point of difference and, unfortunately, the downfall of this narrative.
FREEWAY essentially begins and ends with Alex getting into and out of his shitty AMC hatchback, driving across town to the Disney-esque Babbitt Jones animation studio. Or is he?
I'm honestly not entirely sure, because the story flashes to at least four different periods of time: child Alex watches TV in the wood-paneled basement of his parents' Canadian home; young Alex moves to Los Angeles with dreams of working for his favorite animation studio; middle-aged Alex deals with soul-crushing office political gamesmanship; and a human-faced Alex lives in a utopian vision of 1940s Los Angeles, joining the artists-in-residence during the golden age of Babbitt Jones animation.
Kalesniko is a deft, widescreen storyteller, and at times — with long, wordless stretches — FREEWAY reads like a mundane take on AKIRA, the landmark manga and anime featuring mind-bogglingly intricate architectural design and art direction. The author/artist piles environmental detail atop environmental detail and it's at once impressive and exhausting.
As the story literally inches forward, he cuts back and forth between each vision of Alex and his vision of working at Babbitt Jones, as well as his relationship with the Chinese-American love of his life, Chloe. But then he throws the reader for a loop with a twist about 300 pages in that still has me scratching my head at what's real, what's dreamed and what's potentially hallucinated.
The final chapters are paced like an action film, drawing Alex ever closer to his destination/destiny, and Kalesniko does skillfully edit his storytelling at a breathless clip. But the conclusion raises more questions than it answers, and while some could argue from a bullshit LOST fan perspective that the journey is more important than the destination, the lack of clarity leaves a hollow feeling rather than a resonant satisfaction.
After such a commitment to these characters, it's a shame that the intricate details of the art were not echoed in the clarity of the narrative. —Brian Winkeler