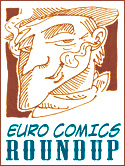 With Luc Besson's VALERIAN AND THE CITY OF A THOUSAND PLANETS still making headlines, there's no better time to catch up with the latest volumes in the series. We've covered every volume here, in fact my first review for Bookgasm was the first Cinebook release of the series, back in 2010. Love or hate the film, the comics are glorious, arguably the greatest science fiction series ever published. And even if you don't agree with my opinion, you'd have difficulty arguing against it considering the influence the series has had over popular culture, which goes, far beyond the comics pages. 
Thus we come to LIVING WEAPONS, volume 14 in the adventures of Valerian and Laureline, spatio-temporal agents of Galaxity. For a while now these albums have been growing in size and scope and complexity, so it's actually a nice break to enjoy a smaller one-shot adventure like the one in this book. Our heroes are floundering in space, looking for ways to make some money to service and run their spaceship now that Galaxity is gone. They crash land on planet Blopik with their questionable cargo, and stumble into a civil war between two decidedly peculiar alien races. 
Now as with all the books in the series, writer Pierre Christin sneaks in themes of social relevance without ever letting this take the front seat to spectacular adventure, and this is again true of LIVING WEAPONS. The subject is the idiocy of war in any of its forms, and boy, does he make an entertaining case of it. As illustrated by the magnificent Jean-Claude Mézières, this is yet another exuberant and effervescent adventure, exploding with color, action, energy and character. Mézières at this point of the series could probably close his eyes and let his pens do the magic, but as always, his inventiveness with weird aliens, colossal landscapes and oddball time-space warps is in full bloom. While LIVING WEAPONS will remain an unlikely candidate for the top volumes in the series, it is a refreshing breather after some longer and far more complicated stories.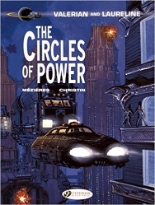 The follow-up, THE CIRCLES OF POWER, is a stronger stand-alone volume, with our heroes still trying to get their spaceship repaired. Stuck on planet Rubanis, they take on an adventure that deals with corruption, politics and the power of media, making these two volumes more timely than ever. Also notably, this is the volume that Luc Besson took inspiration from for his FIFTH ELEMENT, with several action sequences featuring the flying taxicab being lifted almost directly from here. All in all this is a spectacular stand-alone volume that is an easy gateway to the whole series, although it does help if you've read all the preceding volumes beforehand. But that certainly isn't necessary. CIRCLES OF POWER is full of clever touches, magnificent visuals, relevant social critique, and wonderfully subtle, funny but real human interaction between our two heroes. Highly recommended. 
If you're looking to catch up with the complete series, I should note that it's now easy to pick up affordable hardcover volumes of the series which include a long form interview with Besson, Mezieres and Christin, as well as a previously untranslated album of short stories from the very beginning of their adventures, BAD DREAMS, in the first volume. I don't have these volumes myself, but having read all the adventures beforehand, I can safely say they're pure gold. Volumes One, Two and Three are currently out and available, each comprising of three adventures each.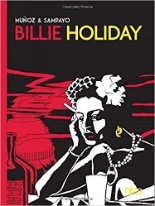 NBM's publication of BILLIE HOLIDAY by José Muñoz and Carlos Sampayo is also quite perfectly timed, even if these no current movie out. What it does is it precedes the publication of the team's magnum opus, ALACK SINNER (also out now from IDW, to be reviewed in the next installment of Euro Comics Roundup), and BILLIE works perfectly as either a prelude or a coda to that masterpiece. 
This stand-alone volume is something of a biography of Holiday, though seen through the haze of years, through the music, through the lens of a journalist researching her as well as through the memories of someone who crossed paths with her once upon a time (namely a young Alack Sinner). All of this complication could come off as a gimmick in the wrong hands, but the Muñoz/Sampayo team is far more interested in approximating a feeling of Billie Holiday than trying to chronicle her life and person in detail. 
The book evokes an era now long gone, and it does it through modern eyes. Like much of their work, we encounter racism and sexism and addiction and apathy and all the things that grind you down every day of your life. If you're human, you suffer. But out of all that pain comes creation and art, and when contrasted against all those difficulties of life, a kind of a serene grace emerges, acceptance and joy for the smaller moments. And that's what makes BILLIE HOLIDAY both sad and beautiful, deeply felt and imagined, emotionally executed, full of life. It makes you pick up old vinyl and find those same emotions in her music.
The black and white artwork by José Muñoz is beautifully expressive and human, finding a kind of organic visual poetry in its flourishes. It's a bit more stilted here than in much of the Alack Sinner stories, perhaps for portraying real people and situations, but it also kind of works for the story and helps it stand apart. It's a perfect complement for the ALACK SINNER books. It also did remind me of the fine recent documentary on Nina Simone, WHAT HAPPENED, MISS SIMONE? Read, watch, listen and learn. 
And finally let's discuss another magnificent reprint, this time from Fantagraphics. Jacques Tardi's adaptation of Leo Malet's FOG OVER TOLBIAC BRIDGE precedes his adaptations of Jean-Patrick Manchette's work (e.g. WEST COAST BLUES, also from Fantagraphics), but together they build a terrific lineage of French language noir, both in novel and comics form. 
Leo Malet wrote a long series of crime novels featuring a hardboiled private detective, Nestor Burma, taking cues from Chandler and Hammet, but building a character wholly his own. Malet, who in his younger years had close ties to the early surrealists (Andre Breton, Rene Magritte and others), gives Burma a background in radical anarchist politics, which plays magnificently well in this adaptation of the novel. I've only read one of Malet's novels —a sharp, swift, wonderful read — and find Tardi's take on the character masterful. A good book creates images in your mind, but to have those images matched, transposed and expanded by an artist is a singularly rare treat. And that's what Tardi does in FOG OVER TOLBIAC BRIDGE.
The story is familiar if you exclude the details: an old friend is murdered. There's a young girl in trouble. A private detective ends up on the case and finds how the strands of the story reach back into his own past, only to have past and future collide violently before the story is over. 
Now if that was the book, it'd be a fine entertainment. But what both Malet and Tardi do is constantly subvert your expectations in small and big ways. The beats of the story are familiar, but when surrounded by details and character that are all unique, somewhat exotic, yet deeply human and real, the results stun and they feel incredibly fresh. The tone is one of resignation and melancholy with bursts of violence and drama, all peppered with dark humor. 
Paris of 1950 likely wasn't a place full of fun, and the gloomy urban visuals Tardi builds around these marvelous characters make the story hit home. Unlike the Manchette novels and adaptations, this is physically far less violent a story, but the damaged characters have all had their share of less visible bruises. This is a magnificent release, and I'm eager to read the other three adaptations Tardi made from Malet's books. Thank you, Kim Thompson (RIP) and Fantagraphics for continuing to publish these elegiac wails of humanity.  —JT Lindroos
If you enjoyed these reviews, why don't you join up with our Facebook group for additional content, updates, discussion and more.