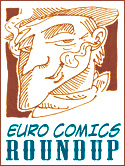 ALACK SINNER: AGE OF INNOCENCE from IDW's EuroComics is a contender for the best book of the year. This brick collects within its 400 or so pages several stories featuring the titular private eye interacting with New York City and its denizens in the unwashed '70s.
For me personally, this book is what the first three Ramones albums, or Scorsese's TAXI DRIVER or Barry Shear's ACROSS 110th STREET, the pages of PUNK magazine, the novels of Chester Himes or Sol Yurick, and all those other quintessentially grubby but vital New York works of art are.
It's a time and a place I managed to briefly catch a glimpse of in the late 1980s before the city was completely gentrified, but which truly came alive in all those wonderful works of art: the movies, books and magazines. It's not a place I'd like to spend much time in real life, but it is a place that still throbs and oozes character, history and life in all its unvarnished glory. ALACK SINNER is a part of that, observations and art that capture an era, turning it into stylized but realistic fiction, mirroring that flash of buzzing neon in the bloodied shards of a broken bottle.
Written by Carlos Sampayo and drawn by José Muñoz, ALACK SINNER is a moody modern masterpiece, compulsively readable but with remarkable depth of character and richness of theme, all bound together by magnificent black and white illustrations that turn a terrific book into a true work of art. On the surface this is a series of private eye adventures, and you can enjoy it all on that level, but at the same time it tackles currently relevant social issues from racism and corruption to politics and police brutality in a vein somewhat similar to the work of David Simon (THE WIRE, THE DEUCE), but here remains that quintessentially European streak of melancholy that lifts it to an orbit all its own.
There have been some complaints that the book is printed on cheap paper and it's not a hardcover. So? That just means the book is affordable and accessible to all. Since I'm not a collector — I'm a reader — I prefer my books to show signs of use. It's cheap enough that those who find this to be a problem can go buy extra copies and file them away for future profits. Mine will live on with creases that match Sinner's face, pizza stains that recall New York of yesteryear, and dead bugs — just because this is a killer tome.
I should also mention the book was a big influence on Frank Miller's SIN CITY, but pointing that out seems to almost diminish the accomplishments of Muñoz and Sampayo. I dig SIN CITY but I love ALACK SINNER.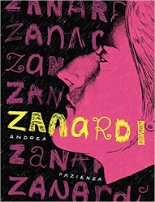 Andrea Pazienza's ZANARDI from Fantagraphics is something very different, yet something very similar. This is a volume of collected underground comics from Italy, spanning the career (and life) of the author whose alter ego the mean character is (Freudian typo – I meant to say main). These are nihilistic, outrageous, offensive and otherwise difficult people having amoral adventures that have little redeeming social or moral value. Yet what ZANARDI does have is an uncommonly wide-ranging dive into the mind of a writer and artist who illustrated the drug-fueled, crime-infested hedonistic life lived by himself and his friends until his death from heroin overdose at age 32.
Now that in itself might be interesting from a literary point of view, like reading fiction and autobiographies and diaries created by junkies, reprobates or career criminals — and there are many fine ones in that bunch. And this IS interesting in that same way, as a fictionalized autobiography that describes a state of mind in realistically sloppy detail. The stories and vignettes found in this collection, from 1981 to 1988, are not so much plotted as they are lived and exaggerated and turned into oddball adventures. It's kind of funny, and the punchlines usually land, but the pleasures of the book are equally available in its casual moments, in the human (and inhuman) interactions, and in its cynically astute observations.
This is a book that is individualistic, weirdly humorous, sometimes metaphysical and usually offensive, but what elevates it into much more than a curio is Pazienza's art. It evolves in mind-melting patterns as the months and years go by, from a scruffy, Gilbert Shelton-esque territory to beautiful full-color fantasies, with almost every story appearing to have been illustrated by a different artist — yet connected by the same mind, all focused on the degenerate adventures of Zanardi.
I would not by any means recommend this book to everybody, but if any of the above sounds interesting, I'd call it essential. I'm deliriously happy that books like these are published, even if it might take me another decade to crack it open again. But I've no doubt I will.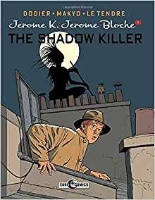 And then finally here's another new volume from IDW's EuroComics line, JEROME K. JEROME BLOCHE: THE SHADOW KILLER. Behind that somewhat odd and cumbersome title is a somewhat odd but very engaging beginning to a 25-volume series by Alan Dodier, Pierre Makyio and Serge Le Tendre.
Jerome K Jerome Bloche is a young private detective who dreams of being Humphrey Bogart when in truth he's closer to Woody Allen in PLAY IT AGAIN, SAM. He thinks mighty highly of himself, but his detection is mainly a series of blunders and accidents (he is looking for the Shadow Killer who has, among his other victims, just murdered Jerome's mail order detective course professor), and he seems more interested in finding his stolen Solex electric bicycle than in doing any actual work.
So the tone is light, the adventure a bit strange, the character is something of a buffoon, and the plot, shall we say rough. Yet this is by no means a bad or even mediocre book. I found it tremendous fun, and the odd combination of what in some other book might be flaws actually enhance the reading experience. The compounded gags are charming, the familiar situations are often tilted slightly sideways to give the book a flavor all its own, and it's all rendered in beautifully loose but clear style that's a consistent pleasure to read.
Suitable for all ages, this very much reminded me of Alfred Hitchcock's Three Investigators novel series I read and loved as a teen, with its exotic mysteries, sense of humor, youthful detectives all still grounded in reality and crafted with intelligence and style. Jerome K Jerome Bloche is a very likable lead and this is a fine introduction to a series I expect to only get better as it builds its world, characters and (most likely) its running gags. Beautifully printed in an affordable hardback, I'm eager for the next several volumes. —JT Lindroos
If you enjoyed these reviews, why don't you join up with our Facebook group for additional content, updates, discussion and more.