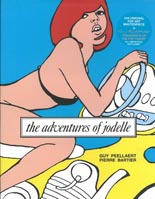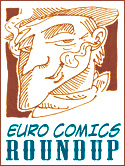 Guy Peellaert's THE ADVENTURES OF JODELLE is a dazzling publication. Whether you like it or not, and there are reasons for both takes, there's no denying it's a gorgeous and significant book that any comics fan should probably own and certainly read. 
Peellaert was a Belgian pop artist who is best known for his work on album covers (e.g. David Bowie's DIAMOND DOGS and the Rolling Stones' IT'S ONLY ROCK 'N ROLL) and movie posters for directors like Martin Scorsese, Robert Bresson, Robert Altman and Wim Wenders. But before all that, he did two long-form underground comics, THE ADVENTURES OF JODELLE and PRAVDA.  
What this Fantagraphics book does is collect Peellaert's first comic and place it into its proper cultural context via a comprehensive set of "special features." The story for the strip, written by Pierre Bartier, is a satirical spy romp set in a swingin'-'60s style of space-age Roman Empire bachelor/ette pad. The exuberant plot is clearly not the focal point, but it's there to let the fleshy neon visuals explode into your eyeballs. Psychedelic in the best sense of the word, ideologically countercultural, and a literal definition for "sequential art." 
At the time of publication (1966), Jodelle was a groundbreaking plunge into the possibilities of comics as art, hailed with superlatives by the likes of Fellini and Godard (who planned to film PRAVDA), yet equally accessible to those who just wanted some good times with a comic strip. It won't have the same impact today, as many of its visual ideas have been appropriated and subverted into the mainstream culture, but as both a time capsule of its era and as a visually stunning romp, it remains a unique experience that should certainly be at least sampled by any adventurous modern reader of comics.
Playfully provocative, funny and smart, THE ADVENTURES OF JODELLE pops with a soft-lined splash of lurid color.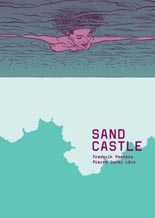 On the opposite end of the color spectrum comes SelfMadeHero's SANDCASTLE from Frederik Peeters and Pierre Oscar Lévy. Drawn in starkly organic black and white, this has a fairly straightforward science-fiction setup wherein a group of people are trapped on a secluded beach, where they mysteriously and dramatically begin to age at a rapid pace. 
Reminiscent of Charles Burns' work, though less idiosyncratic, this is a deeply human tale that works on many levels. It also brings to mind many fine sci-fi stories and films of the 1970s: SANDCASTLE uses such ideas to touch and probe concepts of mortality, relationships, environment and the fleeting presence of humanity in our universe.
So far so good, but what makes this stand out is that all of this comes through the characters and the visuals without anyone spelling things out. Every reader will bring their own background into the experience, and be able to get different ideas out of it. You can even read it as a fairly straightforward TWILIGHT ZONE tale or a B movie up until the final pages. 
SANDCASTLE is another winner from Peeters after KOMA. It's wonderfully mysterious, gorgeously drawn and intelligently conceived, and it manages to pack the full sweep of both the individual and the whole of humanity organically within a compact narrative. SelfMadeHero is publishing yet another volume of Peeters' work later this year.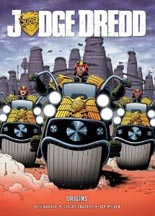 On the tails of the good (if not great) DREDD movie, the U.S. market has been bombarded with choice Judge Dredd material. Case in point, this origin story, scripted by A HISTORY OF VIOLENCE's John Wagner. 
Dealing with the whole of humanity in a far more bastardized form, DREDD: ORIGINS tells the story of the formation of Mega-Cities and the modern judge system. Told in flashbacks as Dredd ventures deep into Cursed Earth to retrieve the body of Judge Fargo, the father of that system and the clone-father of Dredd himself, this was obviously a long-overdue attempt to wrap up many of the loose ends drizzled over decades worth of stories. 
Illustrated by series co-creator Carlos Ezquerra (except for a quick lead-in story), and featuring cover art by Brian Bolland, ORIGINS clearly harkens back to the early era of the comic. Well, except for the modern, gradient-soaked, "realistic" Photoshop coloring, which I continue to dislike, but then again, I'm not the key demographic. 
Ezquerra has never been my favorite DREDD artist, but there is a primal rawness to his style that befits the character. It does still come across as crude in a way very few modern comics are, which (I think) is a good thing.
Yet what really makes ORIGINS work is the story. I'm not saying this is a brilliant origin tale superbly told. It's not. But, warts and asides included, it fits. Moving in jerks and sputters, providing info-dump flashbacks amid usual mutant-attack carnage and instant justice delivered with explosive accuracy, this is a good story with some great moments, wrapped up in a strong, emotional coda.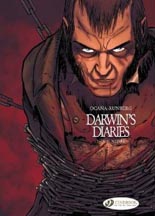 Cinebook Ltd.'s third volume of DARWIN'S DIARIES: DUAL NATURE brings out more mutants and is a marked improvement on the first volume. I skipped the second book after being disappointed in both the art and the story of THE EYE OF THE CELTS, but casually dipping into the third book, I found myself backpedaling my thoughts. 
Those of you who haven't followed the series, the concept is great fun: Charles Darwin, the famous naturalist turned not-so-mild-mannered monster hunter (preceding the publication of ABRAHAM LINCOLN: VAMPIRE HUNTER, mind you). Darwin is more interested in Sasquatch, Almas and other clawed cryptids, rather than vampires.
My problem with the first volume was that the book posited itself in a difficult middle ground between outrageous entertainment and serious historical drama, thus managing to be neither as exuberant nor as literary as it should. It was also visually too sensationalistic to capture the era, yet illustrated in naturalistic tones which suggests that it is to be taken semi-seriously.
But somehow, all that bothered me in the first book now clicks. The art is evocative; the storyline is sharp and consistently engaging. DUAL NATURE is not a great book, but if the art and the idea appeal, it delivers on its promises. It's fairly dark and gory, it goes to places you don't necessarily expect and wraps things up neatly in the end, while clearly making a promise of more to come. It's not really a book aimed for me, but at age 12, I would have adored it.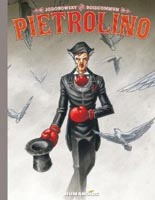 And finally, I'll also briefly mention a new Alexandro Jodorowsky comic out from Humanoids, PIETROLINO. It tells the story of a mime turned boxing clown deep in Nazi-occupied France. This is a superb piece of heartfelt magic realism. Beautifully illustrated by Olivier Boiscommun, the work is a deeply moving and unusual work that, for the most part, remains gentle and romantic.
Of course, the writer being Jodorowsky, it also provides contrasting moments of despair, cruelty and hilarity. I'm happy that this saw light in English, but I doubt it'll remain in print for long, so grab a copy quickly if this is of interest. —JT Lindroos