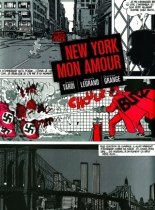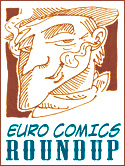 NEW YORK MON AMOUR is a killer book from French master Jacques Tardi, featuring a full-length graphic novel and three shorter stories all set in the New York City of the early '80s. The main story, "Cockroach Killer," features an exterminator who stumbles into a political conspiracy he desperately tries to get out of. The short stories are similar in tone and setting, equally evoking that seedy noir of pre-Giuliani Big Apple.
Lined up next to the previous volumes in Fantagraphics' Tardi series, NEW YORK MON AMOUR stands out. It shuffles in elements from Tardi's other books, but distills those familiar ingredients into a wholly unique concoction. 
It's dark with bursts of action like the two Manchette adaptations, WEST COAST BLUES and LIKE A SNIPER LINING UP HIS SHOT, but doesn't share the morbidly flippant noir humor those books had. It's depressing like IT WAS THE WAR OF THE TRENCHES, but adds just the right amount of unreality and thriller-like qualities to make it less a book you appreciate without rereading it, and more of a literate entertainment you return to time after time. It even shares some of the surreal qualities of the fantastic Bunuel-riff YOU ARE THERE. 
NEW YORK MON AMOUR combines all these elements within a storyline taking key cues from TAXI DRIVER and the political machinations of THE PARALLAX VIEW. Add in a dose of William S. Burroughs' experiences of sniffing bug powder during his exterminator days, and you have a rough idea of the grimy spectacle within the covers. It's a love letter to an imaginary city bursting with life, depression and death, a city you love to observe from a distance. 
Visually, Tardi's chunky, free-flowing style fits the story perfectly. His pen paints the city organic and alive, and while all the stories in the book are thematically dark, his love for the landscape smeared with urban decay is apparent in every frame. The yarn pulls you forward even during small character details, and the accomplishment of marrying those viscerally human experiences into the larger pulpy outline still remains a singularly rare treat. 
This is a contender for a best-of-the-year title. The drama moves you while the action propels that hearty momentum into excitement, and when he hits those surreal notes into the mix, NEW YORK MON AMOUR lifts off into what some might call art and others genius. I'll just call it a must-buy. 
"Hit that lunar note … and let it float."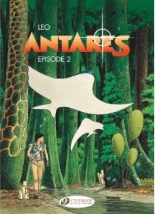 ANTARES: EPISODE 2 — Being the second episode in this third cycle of a sprawling science fiction saga from Brazilian artist Leo, ANTARES: EPISODE 2 advances the story of Kim Keller, the reclusive survivor of humanity's two earlier planetary colonization attempts. Keller and a large group of privately funded explorers are heading through deep space, hoping they've left the corporate-dominated politics of their future earth far behind.
They quickly learn that corporate politics isn't their only problem when they face their fanatically religious fellow travelers. Making that giant leap into the unknown and possibly unknowable suddenly sounds less enticing.
Although I'm not normally a big fan of this type of a realistic illustration (even in a fantastic, futuristic setting), the story crushes my initial lack of enthusiasm and after a few pages, I'm helplessly sucked in. Leo's human characters tend to be a bit stiff, but for some reason, I don't mind it here. His combined talent in both writing and illustrating this series is in many ways such a superb accomplishment that I find it difficult to nitpick.
Utilizing familiar elements, this book consistently manages to vault over my expectations and hopes. It slowly creates a world littered with creatures both human and alien that holds a logical core while allowing for the irrationality of nature. 
 
This is a book that requires you to read the preceding volume, and to wait for the next one. It calls back to previous story cycles, which are not necessary to have read for the enjoyment of ANTARES, but are likely to expand your understanding of character motivations and give a much deeper appreciation of the world-building Leo has achieved.
In the larger scheme of things, ANTARES may not be a great graphic novel, but in its own niche, it's a terrific piece: thoughtful, carefully imagined and illustrated story with a cumulative power that stays with you long after you've turned the last page. I can't wait to see the next volume.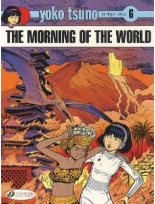 YOKO TSUNO: MORNING OF THE WORLD — Yoko Tsuno is a long-running character created by Belgian Roger Leloup in the early '70s. She is an exceptionally resourceful young woman, trained as an electrical engineer, who has mostly technologically oriented adventures that have a tendency of flowing into pure science fiction. Aimed at pre-teen and teen audience, this is a series highly recommended for especially girls in that bracket. Given that I'm about three decades too old and of the wrong gender, you may take my reading of them with a bucket of salt. 
MORNING OF THE WORLD was originally published in 1988. In the story, Yoko Tsuno travels to the past in a time machine from her future she first encountered in the previously published THE TIME SPIRAL. The first book I liked much better than I had anticipated, and thus, my hopes for this one were high. 
The story for this book is that while visiting Bali on her own small jet fighter, Yoko is told by her cousin Monya that she accidentally caused havoc in the year 1350 A.D. while making excursions on her time machine. She needs Yoko's help to set things right.
Off they go to try and save a young native dancer from being sacrificed. Unfortunately for them, and luckily for the reader, there are prehistoric pteranodons about, a volcano is about to erupt, and our heroes are suddenly surrounded by all kinds of life or limb-threatening situations. 
But while TIME SPIRAL was subtle, expressive, and even philosophical, MORNING OF THE WORLD lacks the magic that made the previous adventure entertaining and accessible to even an adult reader. This one is lightweight and capably illustrated, but Leloup's lines here have lost some of the loose naturalistic flair they had. There's nothing wrong with the book, and Yoko is still a very good role model for young girls, but the action, the situations and the characters have lost their vibrancy. 
I'm certainly interested in reading the chronologically earlier books to this one myself, but MORNING OF THE WORLD is not the ideal place to start. Luckily, the next book in line to be published in English is THE CURIOUS TRIO, which is the tale that introduced the world to Yoko Tsuno. I can't vouch for the story in that book, but visually, it explodes with vividly drawn adventures and astounding scienti-fictional gadgetry.  —JT Lindroos