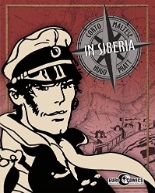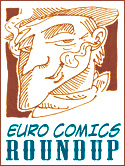 The latest Hugo Pratt book, CORTO MALTESE IN SIBERIA, from IDW's EuroComics is simply fabulous. Which comes as no surprise to anyone who reads this column. They all are. You should buy each volume, read them every couple of years, and stock extra copies to give away to friends and enemies and complete strangers. I'm not sure a longer review is necessary, but I'll nevertheless jot down a few thoughts.
Corto Maltese in Siberia follows our vagabond shipless captain from Venice through Hong Kong and Shanghai across Manchuria and Mongolia to the frozen titular Russia through 1919. The world is still in turmoil after the first world war, but this far east region had more than its share of chaos following the formation of the Republic of China in 1911 (which fractured again in 1916 to numerous regions controlled by military warlords). The Russo-Japanese war of 1904-05 was over, and so was the Russian Revolution of 1917, but where all of these fractured nations collided was in Manchuria, which comprises of Northeast China and Far East Russia. Manchuria was being fought over by both Russian and Chinese power blocks, not to mention the Japanese, and underneath those national levels rumbled the interests of various smaller armies and warlords, secret societies and other economic, political, religious and racial factions. And into this region enters Corto Maltese, under contract with the Red Lanterns (an all female secret society), looking for a gold-filled armored train traversing the transsiberian rails.
If that sounds like a history lesson, fear not (or rejoice), as like all of Pratt's work, this volume contains a magnificent adventure story that can be read and enjoyed as just that. It's full of excitement, but underlined by an elegiac streak of melancholy, combining real locations, real people and real incidence that all opens up a multitude of fascinating doors for further reading for those who know little or nothing of this era, and it'll bring this distant time and place to life for those who only know it from history books.
For me, this is where the greatness of Pratt lies. If it hadn't been for Pratt and Corto Maltese, I wouldn't right now be reading Edward Rice's biography of Capt. Sir Richard Francis Burton or Beryl Markham's WEST WITH THE WIND or Louis Becke's PACIFIC TALES. His work combines his own extensive global life experiences and travels with his deep knowledge of history, and his appreciation of literature, arts and other esoteric interests. Corto Maltese in Siberia opens with references to Kabbalah and the Tarot, quoting Sir Thomas More's Utopia which Corto happens to be browsing, only to flow into an adventure equal to the best of Kipling (or John Huston's take on the same or Jack London or any other past masters canonized and celebrated with enthusiasm and delight). Far more than any teacher I ever had, Hugo Pratt taught me to love and combine history, mystery and the arts.
If any of the above appeals, or the description otherwise piques your interest, you should be reading and enjoying CORTO MALTESE IN SIBERIA regardless of your age or gender. And even if the above doesn't sound interesting, there's Pratt's artwork. By this time his mastery of the form in service of the story was complete. His lines are casual and quick, but always true. There is expressive artistic eye to his compositions, historically accurate and lovingly recreated, bursting with action and emotion. Corto Maltese is one of the greatest comics ever created, and you can jump on board with any volume in the series.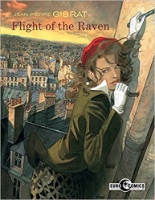 Jean-Pierre Gibrat's FLIGHT OF THE RAVEN, also from EuroComics, shares many similarities with Corto, but nevertheless is completely different stylistically and tonally, which makes it even more fascinating when read alongside Pratt's work.
Set during the German occupation of France during WWII, the story opens with our beautiful heroine, working with the resistance, being captured alongside a handsome thief, Francois. They escape across the roofs of Paris during a bomb raid and start looking for Jeanne's sister.
For my first flip through, it seemed like this was going to be terrible. Jeanne looks all legs and lipstick and hair, a Hollywood starlet pretending to be a resistance fighter, as does Francois, the dashing rogue oozing charisma and boyish charms. It's all lush and romanticized and quite beautifully presented, but with a certain inescapable cheese factor that makes me groan inside.
Now while all of the above is quite true, and I personally would have preferred it to have more quirks and character, the book, page by page and frame by frame grabs you in with a charm completely its own. The pace is languid and the tone mostly warm and inclusive, and the story unfolds with unexpected polish and beauty. What struck me personally is that this seems to have more in common with Jean Vigo's L'ATALANTE or Renoir's GRAND ILLUSION than with anything current. This classicism of the story that allows it to build and breathe also brings its characters alive, and the lush lens suddenly creates unexpected magic in the process.
Gibrat's artwork is mostly a joy to behold. His depictions of old Paris from its canals and the world of barges to the roofs above the city are stunningly loving and evocative. The care he puts into details is remarkable and his occasional cinematic tilts of the frame never draw attention to the technique, but they only subtly enhance the whole.
His characters are expressive and display real emotion, though it seems to my eye he is a bit too much in love with his leggy heroine, creating idealized images and situations for her (and to a lesser degree Francois) to pose in. Which rather fits the book, and proves only a minor distraction, but I still would have preferred a more naturalistic approach, starring Dita Parlo and Jean Gabin instead of Rachel McAdams and Bradley Cooper. None of that detracts from how these and other characters interact with each other, their environments and with lights and shadow, though mostly in this book it's only gradations of light with few shadows, accented by wonderfully moody water reflections.
Thus overall my minor quibbles fail to make a dent into the charms of this lovely book. I expect to revisit in a decade or so and find it getting better with age. I wouldn't call it a masterpiece, but it is a remarkably sustained piece that presents a romanticized vision of war with absolutely gorgeous art and a solid, literary story that avoids the usual pitfalls and tropes of this particular genre.
And once you're done with it, you can also find its prequel, THE REPRIEVE from Europe Comics, albeit in digital form only. I've not yet read it.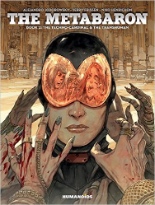 Finally, we have the second volume of THE METABARON: THE TECHNO-CARDINAL & THE TRANSHUMAN, from Humanoids. Following the story of the first book, this sequence again centers around the superfuel Epiphyte, its origins and the search for more by the Techno-Techno civilization and its flunkies in this futuristic world originating from the Moebius and Jodorowsky work THE INCAL. This time around the newly minted Techno-Cardinal is assigned on the case and through various plot complexities ends up as the Metabaron's new lover, while galaxies collide in the background setting this universe ablaze in a preposterously unscientific (but admittedly glorious) manner.
Now I have to say that this book is a strange, lopsided beast. Taking over the illustration duties from Valentin Sécher (who did a commendable job on the first book, Niko Henrichon (of PRIDE OF BAGHDAD fame) struggles with some of the human and inhuman requirements of the task, but every moment we are exposed to the elements in crumbling alien cities or coordinating the explosions of space armadas, he picks up and slides effortlessly into orbit with exuberant panache most suited to the tale told. Jerry Frissen's script (based on Alejandro Jodorowsky's outline) is equally schizophrenic, though oddly the art and the words squiggle and throb in unison as when the words falter so does the art, and when the script soars, Henrichon's pens ascend in sync with it.
Thus sections of this volume come off as viscerally demented as the best of Jodorowsky, combined with the Lovecraftian lunacy of early Druillet. These moments are illustrated with verve and polish that makes the combination explode off the page into your brain by way of your eyeballs with the force of a zen master unloading a compounded koan into your unconscious mind with the help of a Louisville slugger. Which is to say, the book holds moments of magnificence of galactic proportions. But it also fumbles in equal measures, when the now emotional, quasi-human Metabaron exchanges pedestrian declarations of love with his newfound paramour that produce planet-size groans deep enough to nearly swallow those transitory passages of genius!
However critical I may be of those fluctuations, this second volume of THE METABARON is a very worthwhile read that expands Jodoverse in an admirable fashion, and despite its deep flaws, I'm extremely eager to see how it all turns out in the end. For those similarly inclined I'll heartily recommend both this and the preceding volume. —JT Lindroos
If you enjoyed these reviews, why don't you join up with our Facebook group for additional content, updates, discussion and more.