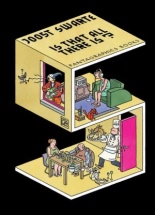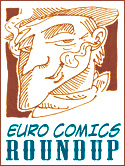 Do you love Tintin? Do you hate Tintin? If you answered "yes" to either one of the questions, you're bound to enjoy the collection of (almost) all of Dutch artist/designer/national treasure Joost Swarte's comics work, IS THAT ALL THERE IS?
These days, Swarte is better known in the States for his NEW YORKER illustrations and covers than for his pioneering work in the alternative comix scene from 1972 onward. This slim volume from Fantagraphics is beautifully bound to change that notion in a decidedly vivid manner. From the beginning Swarte hijacks Hergé's classic "clear" line style — and in a deliciously shocking manner — subverts the inherent promise of that style into casual violence and debauchery of the most politically incorrect kind.
Now, that in itself would be a fun book to read, but given that this book covers some 40 years of work, Swarte's interests mutate. As your eyeballs reach out of their sockets to feast on the visuals, the book makes sudden requests for you to twist it sideways or upside down like a steering wheel as the author dismantles comics structures and preconceptions. 
Given the nature of the book, storywise IS THAT ALL THERE IS? ranges from spectacularly outrageous to somewhat ho-hum, but even the throwaway plotlines are illustrated with such precise verve that it's impossible not to enjoy this ultimately all-too-brief volume for every single panel it presents. Swarte is consistently projecting an incisive and curious mind at work, perfectly tuned to his showstopping skills as an artist nonpareil. Colorful, in more ways than the obvious, this is heartily recommended.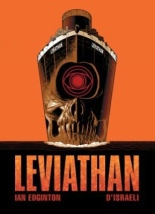 Ian Edginton and D'Israeli's LEVIATHAN should be great. The story of a massive (and I mean B-I-G massive) ocean liner running afoul of some devilish shenanigans, stuck on the seas for decades, it echoes everything from H.P. Lovecraft to J.G. Ballard by way of Agatha Christie and Alistair MacLean. It's a fantastic concept, beautifully illustrated in black, white and shades of grey. 
Yet the story never truly gels. LEVIATHAN goes through the motions, hitting all the marks, promising something spectacular, yet it fails to deliver any true punchiness. Reading more like an idea for a story than anything carefully thought out, it deflates the wonderful setup and delicious art to a "plink" when it should blow the earth's crust wide open to show us Dante's INFERNO boiling underneath. 
So maybe I'm overtly harsh, but what I hate more than mediocrity is the promise of greatness. And then failing to deliver. Your mileage may vary; thus, this still ekes out a mild recommendation for its many virtues.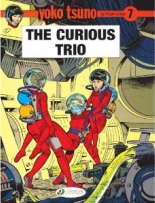 THE CURIOUS TRIO is both Roger Leloup's latest and earliest YOKO TSUNO installment. Originally published in 1972 and time-wise, nicely balancing this column, this is a terrific piece of work, although it might be a bit of a surprise for anyone who has read Cinebook's other YOKO TSUNO releases. 
The story starts with Yoko Tsuno meeting her friends Vic and Pol for the first time while working as a cat burglar testing the security of the television production company the latter two are working for. Quickly joining forces, they focus their joint interests in scouting underground rivers for a documentary. What they find, however, is a colorful weird-science settings full of cryptoterrestrial aliens, disintegrator rays, telepathic communicators, artificial-intelligence mind probes and massive underground habitats. 
Now, the reason this stands out from the later adventures is that Leloup had not cleaned up his style to the precision it would later groove into. THE CURIOUS TRIO is visually closer to Jean-Claude Mézières' work in Valerian or Maurice Tillieux's Gil Jourdan stories, with striking and organic lines. Through this casual mastery, Leloup makes the characters and settings come alive with spectacular joy of adventure.  —JT Lindroos