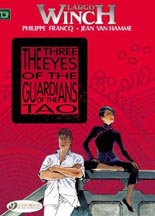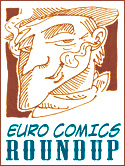 LARGO WINCH is a globetrotting adventure series of the classic kind, set in the modern-day corporate world. These books are full of spectacular action where a ruggedly handsome action hero, surrounded by beautiful and capable women engage in worldly affairs of the super-rich, inevitably leading into extreme danger, daring and derring-do. 
The series is written by XIII creator and all-about Franco Belgian comic genius Jean Van Hamme and illustrated with casual mastery by Philippe Francq.
In Cinebook's latest two-volume story, starting with THE THREE EYES OF THE GUARDIANS OF THE TAO, our young billionaire hero is sucked into Hong Kong to sign a deal between two mega-corporations, but things go sour quickly. The complex, but clear storyline uses the ongoing China-Tibet conflict as fodder for the larger story, flinging from personal level to Chinese Triads, and government-level shenanigans. 
This is an easy stepping-in point to the series. Van Hamme is a master at tying in required information to his storylines without resorting to annoying info dumps. Of course, if you have read any of the preceding volumes, this will only make the experience richer to the reader, but these plots are action-packed and beautifully choreographed. It brought back good memories of the best Roger Moore-era 007 films (i.e. FOR YOUR EYES ONLY) in its balance of a solid storyline, a sense of adventure and wonderful action set pieces.   
Not only is LARGO WINCH a gorgeously illustrated explosion of fun, but it's colored perfectly. I get so frustrated with modern coloring techniques, which make an attempt at Photoshop realism and end up looking like cheap video games, that this kind of a discharge of strong, solid colors backing the superb, classical thin lines of Francq's penmanship is not just an icing on a cake; it's the skin that shows off the perfect bones and muscles beneath. 
And as much fun as THE THREE EYES is, the concluding volume of this storyline is even stronger. Coming to the North American market on the heels of this one, THE WAY AND THE VIRTUE is equally essential and highly recommended.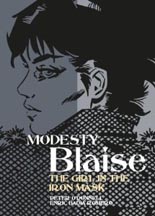 Having also just read the latest volume of Titan Books' reprints of the MODESTY BLAISE comics, the fantastic THE GIRL IN THE IRON MASK, it's difficult not to point out the lineage and similarities between these two series. Largo Winch and its ilk clearly are in the mold set by Bond and Blaise. 
There's a capable hero engaged in espionage and adventure in far-flung exotic locales, protecting the innocent in somewhat questionable ways, having fun doing so. Dynamic male-female interactions are peppered with peril, evil villains and their henchmen, in ages-old traditions. 
And this volume of MODESTY BLAISE is all that and more. Beautifully illustrated in the two colors that truly matter — black and white — by Enric Badia Romero and written by Peter O'Donnell, it collects three storylines from newspaper strips of yesteryear. While it's exciting and engaging for the first two stories, the third (titular) story is the true showcase here.
Mixing Alexandre Dumas with THE MOST DANGEROUS GAME, adding a psychological angle to the usual action and intrigue, MODESTY ups the game and provides an imaginatively outrageous setup, which it then resolves with spectacular results. I was surprised at how much I enjoyed these stories.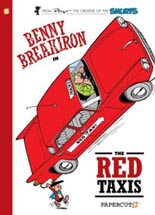 Something aimed at a much younger audience is Peyo's BENNY BREAKIRON #1: THE RED TAXIS, published by Papercutz. Peyo is best known as the creator of THE SMURFS, but this series (which debuted in 1960) features the misadventures of a super-strong little boy. 
Roughly in the mold of classic Franco-Belgian greats like Tintin or Asterix, or Fantagraphics' Gil Jordan or Sibyl-Anne books, this fits snugly in that set. It's spectacularly illustrated in that fast and loose cartoony manner, full of clever and engaging gags and adventures. 
Clearly riffing on the American Man of Steel, the cover amusingly mimics the first issue of ACTION COMICS, and our little rascal hero even has his own Kryptonite: He loses his powers when he gets a cold … and he seems to be getting colds at the most inopportune times! 
Benny Breakiron is clearly and intentionally comical and impossibly cute, so obviously this is suitable for young kids. But even for myself, Benny's upbeat take on bullies and other criminals is ridiculously entertaining. It's not just that each panel of the strip is so dynamic and precisely perfect, or that the 1960s French setting comes off as exotic.
It's not even the oddball storyline and peculiar characters that populate this setting. It's all that and more. Even the translation is a delight, and the printing is beautiful. I do, however, wish it had been printed at the full European size instead of the current U.S. "pocket" standard.
Overall, BENNY BREAKIRON is a no-brainer recommendation for anyone with kids, and at its incredibly low price, I'm hard-pressed not to recommend it to any adventurous adult readers of comics in general.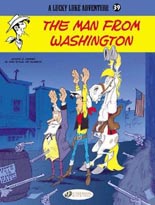 Keeping to comics for kids, I'm always a bit leery when a classic property is rebooted after the death of the creator. And given that MAN FROM WASHINGTON is the first Lucky Luke album I've read that was not illustrated by the uni-named Morris, my expectations were low. It's not like the later Morris albums were that great. The man had, after all, been working and reworking the same material for five decades.
But within the first few pages, I was smiling and occasionally chuckling. Writer Laurent Garra, better known as a stand-up comedian, has slightly updated the well-worn character while keeping him true to his roots. Artist Achdé mimics Morris' style with superb elasticity; even familiar characters like Billy the Kid and the Lee Van Cleef lookalike Bounty Hunter make appearances.
What is equally delightful is that the book successfully lampoons recent American politics: a crooked Texas oilman with a distinctly familiar look is running for president against Rutheford B. Hayes, and the main villain is the head of the NRA! And if you've seen Steven Spielberg's LINCOLN, you can read this romp as an almost direct sequel to that Oscar-winning film of last year.
If there is anything missing, it's some of the irreverence of the early books, and this entry is a bit heavy on unnecessary characters, which clogs down the plot (although it was fun spotting Robert Conrad and Ross Martin in cameos). If you like Lucky Luke, this is a must-buy … and if you don't, it's not a bad place to start.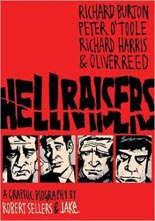 Finally, from SelfMadeHero, Robert Sellers' HELLRAISERS is a bonkers booze-biography of the exploits of actors Peter O'Toole, Richard Burton, Oliver Reed and Richard Harris. Chronicling the more extravagant abuses of these thirsty thespians by way of a rather Dickensian Ghosts-of-Christmas-Past setup, we are treated to the (probably) true tales and lives of these men. 
Brilliantly illustrated and cleverly written, this might be of more interest to fans of these larger-than-death performers (count me in), but it's a wonderfully lunatic enterprise full of bullish berserkers who carouse their way through recent cinematic history, encountering everyone from Ken Russell to Russell Crowe, by way of Elizabeth Taylor and Michael Caine. 
If you'd like to see Reed empty goldfish from a hotel fountain in the middle of the night, then carve fake fish out of a bag of carrots and plant them into the fountain, only to dive in by morning and gleefully munch down on them in front of the gathered crowds … well, then this is the book for you. They lived it. I loved it. —JT Lindroos