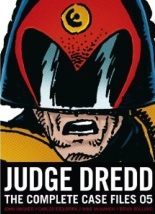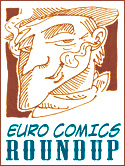 JUDGE DREDD: THE COMPLETE CASE FILES 05 — If you don't know who Judge Dredd is, I feel bad for you. If you do know Judge Dredd and think he's the doofus played by Sly Stallone in a crummy '90s sci-fi flick, I feel worse. In either case, I recommend a dose of COMPLETE CASE FILES 05 as the cure. Gaze into the fist of Dredd!
As 24th-century judge, jury and executioner, Judge Dredd is the law. In a massive and massively overpopulated metropolis surrounded by scorched earth crowded by mutants, Dredd patrols the streets with his fellow judges and delivers his punishment for criminal behavior.
Given that this is a COMPLETE publication, you should always expect to have a few clunkers within these 400 pages, but the ratio in this particular volume is about as favorable as you're likely to get. The opening filler stories, "Crime Files," can be bypassed or read as introductory material to the world, but when the wheels start rolling, they roll with the force of Ogami Itto pushing his baby cart. 
Opening with "The Dark Judges," the longest continuous Dredd story illustrated by Brian Bolland, this sequel to "Judge Death" from COMPLETE CASE FILES 03 kicks this collection into high gear with its combination of mayhem and metaphysics. Judge Anderson of the Psi Corps makes a welcome return (soon to be headlining her own spin-off stories) as does the previously imprisoned Judge Death. But Death has his fellow judges Fire, Fear and Mortis delivering their own brand of justice: "Your crime isssss life … the ssssentence isss death." 
What pushes the book into overdrive is the one-two punch of "Block Mania" and "Apocalypse War." When East-Meg One (Soviet Mega City) launches an all-out atomic attack on the U.S. Mega City One, Dredd and whatever remains of the judges turn to guerilla warfare on American soil to push out the Russkies. Part RED DAWN and part mass-destruction on a global and genocidal scale, this long storyline is some of the best-written, biting action-packed comic book mayhem available. Illustrated by character co-creator Carlos Ezquerra, this is dirty, grimy and visceral: the exact opposite of Bolland's hyperclean stylings.
You can take Judge Dredd as a British satire of American politics, culture, consumerism and anything they can poke their finger at. What's sad about this, is that while these stories first came out in the early '80s during the Reagan era, they're still relevant and eerily accurate: "Next time, we'll get our retaliation in first."
And what's truly great about much of 2000 AD material, and especially Dredd, is the moral ambiguity of it. Abuse of power and corruption front and center. Very few of the characters in these stories are heroic in the classical sense. Judge Dredd is not a good guy. You'll root for him as he guns down a mass murderer, but then when he mows down a gaggle of rioters just to make way for his passage, you start wondering.
By the end of "Apocalypse War," your moral compass should be doing cartwheels, and then you'll realize the liberating value of a 2000 AD comic book. This is something you'll never see in the movies. Not in the soon-to-release DREDD 3D and not in its sequels.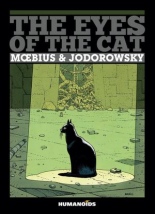 THE EYES OF THE CAT — Here's an oddity I can't recommend to casual readers, even though the book is absolutely marvelous. Scripted by Alejandro Jodorowsky and drawn by Jean "Moebius" Giraud, this 56-page hardcover is short and pointed in the extreme.
Consisting of essentially 26 full-page illustrations, with a repeated image (with slight variations) on the facing page, and very few words, this can be read through in a couple of minutes. It's not something you should do, but someone might balk at paying the full $35 cover price for this, so a warning is appropriate. 
So what makes it such a fine volume, then? It's not the story, although it is perfect in its pitch-black humor. What makes this book is the art. These are 26 stunning black-and-white sequential illustrations by Moebius. This is more an art book than it is a comic book, though it does tell a story. They are precise the way Escher is precise. They are balanced like a Hokusai print. They are composed and considered as a Hopper painting. They are surreal in the manner of Dali, and they hold darkness of Bosch in their heart. 
THE EYES OF THE CAT is a beautiful showcase of comics as sequential art. With a punchline.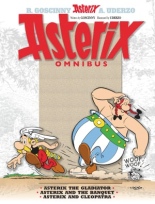 EURO COMICS CLASSIC
ASTERIX OMNIBUS VOLUME 2 — Nearly everyone knows of Asterix and Obelix, the little guy with a big mustache and the big, fat one who wears striped pants and carries big rocks. It's a goofy French comic for kids. 
Created in 1959 by French artists René Goscinny and Albert Uderzo, and set in Gaul during the first century B.C., a small village is surrounded by Roman forces, but given that they posses a magic potion that gives them superhuman strength, they remain a tiny unconquered spot on the map. 
But have you actually read any of them? And if so, have you read one recently, or after you turned 12? If you answered no to any of the questions, go pick one of the early volumes up. You can get one for $10, or an omnibus of three for $15. They're beautifully illustrated, carefully plotted, intentionally funny, wonderfully translated (even the character names are puns: potionmaker Getafix, bard Cacofonix or architect Edifis) and simply some of the most delight-filled comics suitable for you, your kids and your grandparents. —JT Lindroos