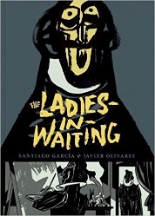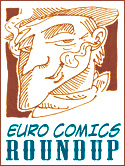 Following up their fabulous SPANISH FEVER anthology/sampler package, Fantagraphics now unleashes further modern treasures from the vibrant Spanish comics scene. THE LADIES-IN-WAITING continues the current trend of comics biographies, taking aim at one specific painting and the man who painted it: "Las Meninas" by Diego Velazquez, from 1656.
Written by FEVER editor Santiago Garcia and illustrated by Javier Oliveras (whose "Finland" was one of the highlights of that earlier volume), THE LADIES-IN-WAITING attacks its subject with relish and reverence. Being nearly 200 pages in length, this book jumps back and forth in time not only during the lifetime of the painter and how his experiences lead him into the creation of his enigmatic masterpiece, but the book ties in everyone from Michael Foucault and Pablo Picasso to Salvador Dali in creating a mosaic that penetrates into Spanish arts history, discusses the commercialization of the arts and the role of the artist within society.
All this sounds mighty high-brow and literary, but the presentation is anything but. It's fast-moving and effervescent piece, where we get interludes tagged "True Crime Stories" and watch a naked Picasso trying out African tribal masks while Velazquez acts like a boorish horndog attempting to seduce and secure himself a mistress or few. So what actually have here is more of a Ken Russell approach to biography in that this is a visually vibrant piece, highly entertaining and engaging, dispensing with all brows (low or high) in order to create a new work of art, done with deep knowledge and appreciation of the subject, all building up to a thoroughly wonderful reading experience. Javier Oliveras' artwork is expressive and of a piece, nothing like the work of the artist his work depicts, but in his own deeply individualistic approach he humanizes Velazquez and those around him, taking liberties but establishing a perhaps poetic truth of their lives. An essential purchase for all public libraries and those who enjoy comics biographies. A solid recommendation for everybody else.
I should also briefly mention Steffen Kverneland's MUNCH, another exuberant artist biography in comics form. MUNCH came out from Self Made Hero last year, and while I missed it the first time around I luckily came across it at the local library. This is a phenomenal work of comic art that takes its subject by the throat, shakes him up in a spectacular variety of styles and ideas, resulting in a unique and masterful comics biography. Being more irreverent and exuberant than LADIES-IN-WAITING (or LISZTOMANIA to its SAVAGE MESSIAH), and as such probably without quite the appeal to mainstream audiences, this is nevertheless highly recommended. Just more so to those with offbeat tastes.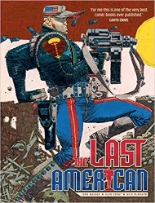 Speaking of mastery of comics arts, THE LAST AMERICAN came out originally in 1990 from Vertigo, but 2000AD has now reprinted this magnificent book in a single lovely 128-page volume. Scripted by John Wagner and Alan Grant, the book tells the story of the titular man, U.S. Army Captain Ulysses Pilgrim, who is placed in a secure bunker in a state of suspended animation for twenty years, guarded by robots as the world is about to be annihilated in World War Three. The book opens with Pilgrim waking up to his assignment: search for survivors and lead them.
All that does sound at best vaguely familiar, even if you were reading this 25 years ago. Now post-WALKING DEAD and LAST MAN ON EARTH and about one gadzillion other books and movies and comics later, you bet your ass it sounds familiar. Of course LAST AMERICAN came out before a lot of those works, but it also came after a metric ton of the same. This post-apocalyptic genre has been vibrant for about as long as there has been literature, and it looks unlikely to slow down. Yet with all that going on, this book stands out.
The script, pared down to a plot, is solid, echoing classic works but how it incorporates surreal and tragicomic sequences is all kinds of wonderful. This is not just another horror show, but something of a weirdly wild final wail of modern humanity, before it disappears down a radioactive hole in the ground and mutates into something new and unpredictable.
And even beyond the script, the book is illustrated by the incomparable Mick McMahon. McMahon is perhaps best know for his work on early Judge Dredd serials such as "The Cursed Earth," but also for his brilliant Slaine, Hellboy and Tank Girl runs. Hardly prolific after his early burst into the scene on the pages of 2000AD (when he gave Dredd those giant boots and fuzzy helmets) and before his style quickly morphed from solidly individualistic work into these elaborately exaggerated action-cubist caricatures, he continues to evolve. In LAST AMERICAN his chunky square lines are consistently inventive yet idiosyncratic, evoking and transmitting real emotion and true feeling while being truly unique and true to his personal vision.
This combination of riffs that play on convention in both story and art, only to alter the baseline through collaborative genius into true art, is what makes THE LAST AMERICAN so wonderful. Particularly viable in the chaotic world of today, this is a withering satire combined with oddball comedy, somehow transmogrified into exuberant melancholy that gives the reader a jolt that is both instant and permanent. Absolutely recommended.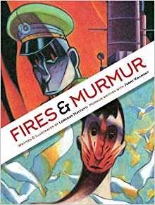 Finally, and also in an apocalyptic vein, Dover has added Lorenzo Mattotti to their reprint lineup with this double feature hardback of FIRES & MURMUR. And having finished it I'm feeling quite beside myself. I only really know Mattotti from CRACKLE OF THE FROST, which Fantagraphics published a few years back, though for anyone who reads New Yorker will have seen his artwork on its covers regularly for the last couple of decades. Mattotti is far better known as an illustrator and painter than he is as a comics artist, but with this volume — the first half of which he also wrote — I'm desperate to see more of his original stories.
FIRES, which was previously published in English by Catalan in the late '80s, is a hallucinatory story set in the early parts of the 20th century on a teutonic battleship that's been sent to investigate a burning island in an archipelago somewhere in the southern hemisphere. Lieutenant Absinthe of the expedition goes ashore and comes across the island's strange occupants which sends his mind reeling. Literally.
Now all that sounds (and is) rather vague, but Mattotti's work is symbolic and evocative, not at all realistic (except on an emotional level). And when his visionary vistas are conjoined with an equally symbolic and equally evocative storyline, it fires off sparks bright enough to blind your eyeballs just so you can gaze at the book with your mind's eye.
Echoing J.G. Ballard and Joseph Conrad, FIRES is one damned spectacular book. Which kind of makes it sound like the second half — MURMUR — isn't. It is — it's just that it can't compete with the opening salvo. The story of an amnesiac's quest mashed with magic rituals is beautiful and vividly imagined. And when you tie those two titles together in this one hardcover volume, there's no question what you should do. Dover continues publishing fine, important work in lovely and affordable editions. Find 'em. —JT Lindroos
If you enjoyed these reviews, why don't you join up with our Facebook group for additional content, updates, discussion and more.