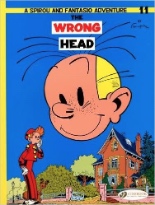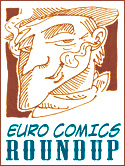 THE WRONG HEAD is the latest stand-alone volume in the screwball adventures of Spirou and Fantasio, two globetrotting journalists for the Mosquito newspaper. Written and illustrated by Andre Franquin in 1954, this is another gorgeous and affordable episode in this delight-filled classic series.
It starts with our two heroes having a quarrel which spirals into yet another spectacularly extravagant storyline involving a museum heist, stolen identities, amnesia and numerous chase scenes. There's plenty of action and comedy from first page to last, and the weirdly careening storyline carries us along effortlessly. Overall, though, this isn't one of the strongest volumes from Franquin, but it is gorgeously illustrated, witty and peculiar in its invention, and has a spectacular bicycle race sequence that had me honest-to-Zeus chortling out loud with its genius pacing and master-class physical comedy.
As often is the case with classic Franco-Belgian comics, looking at the cover and even browsing through the book, you could think this is solely for kids, and be partly right. I mean, you can look at a Buster Keaton or a Harold Lloyd or a Mack Sennett film, and consider them movies for kids. And be partly right. But like the best of silent comedy, or just classic screwball cinema, Franquin's Spirou and Fantasio adventures are suited for absolutely everyone. They are irreverent and energetic (almost to a fault), and with magnificent clarity Franquin's elastic style is a spectacle in itself: fluid, idiosyncratic yet trend-setting, and a thrill and a joy to read.
It also looks like Cinebook will be skipping several volumes from Franquin's publication order and following THE WRONG HEAD with one of his masterpieces, Z IS FOR ZORGLUB … though before that, they've just announced having acquired the rights to Franquin's Gaston Lagaffe series, to many his masterpiece and as such, some of the greatest Franco-Belgian comics ever published. Of that 15-plus-volume series, we've only seen a few pages published in English by Fantagraphics in the early 1990s under the name Gomer Goof. The first volume will be available likely in the third quarter of 2017.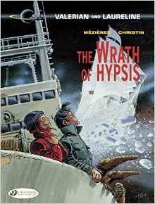 Now while we wait for Luc Besson's VALERIAN AND THE CITY OF A THOUSAND PLANETS this summer, you really should catch up with reading the comics it's based on. I've reviewed every single volume of it on these pages, and consider it to be quite possibly the finest science fiction comic book series ever created. The books have sustained a magnificent creativity for 50 years, written and illustrated by the same two man team from the first adventure to the last: artist Jean-Claude Mézières and writer Pierre Christin. They take and create classic science fiction settings (mined liberally by George Lucas and his minions for the STAR WARS universe), insert their two spatio-temporal agents into these settings, add socially relevant issues to the storyline and let the sparks fly.
THE WRATH OF HYPSIS is a direct follow-up to THE GHOSTS OF INVERLOCH, and you need to read the first volume before tackling this one. Our heroes, steering in Scotland in the year 1986, are trying to understand why agents of a rogue planet, Hypsis, are causing chaos on a global scale in that particular time and space. While this might sound like the authors are taking issue with the military-industrial complex, this volume adds religion to the mix and comes out with some preposterously wonderful scenes taking on specifically Christianity, but without forgetting the great gods of Greek mythology.
Oddly for such an important piece in the overall storyline of the series, this is almost a comedy of manners, the closest Valerian and Laureline come to Jane Austen … of course still with aliens, time-travel high-jinks and a calamity that has the potential of erasing the future history of earth and all its inhabitants. Like all of the Valerian and Laureline books, this is entertainment with character and kick, a sense of humor underscored with serious emotion and human (or alien) interaction that remains vivid, visceral and deeply humanistic at its core.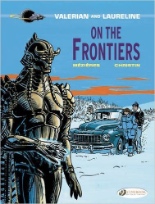 All of this is also true of the direct follow-up to this volume, ON THE FRONTIERS, which works as a separate stand-alone volume, but also as a melancholy coda to the preceding adventures. It might reveal too much of the earlier events for me to discuss the specifics of the plot, but essentially this one deals with pain of loss, and ends up being — despite all the rousing action and comedy that ensues — one of the most moving books in the whole series.
While ON THE FRONTIERS might not be the most obvious place to jump into the series, it does work on its own. At 64 pages, longer than the usual 48-page episode, the story loudly hints at the riches in its backstory that will make it all the more so emotional for longtime readers. But this is also somewhat more realistic episode overall, as Mézières' artwork has slowly moved from the classically cartoony to a far more subtle style, without losing any of its pizzaz and pop. There are sequences that are as richly elaborate on a galactic scale as any in the series, but they are grounded by his ability to work in the micro just as well as he does on macro. Simple glances from characters are so spot-on that the artwork carries within its still roughly cartoony style a deep emotional connection to the story, characters and their plight.
Like all the previous volumes in the series, these are both highly recommended. —JT Lindroos
If you enjoyed these reviews, why don't you join up with our Facebook group for additional content, updates, discussion and more.