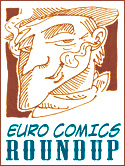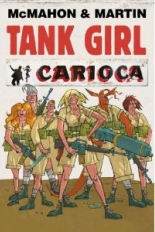 It helps, but doesn't truly matter, if you've read other TANK GIRL books before you read this one. If you've not yet squandered your loot for pizza and beer, you could even start with the costly THE HOLE OF TANK GIRL. (I squandered mine, so can't afford it). There exists no such thing as the TANK GIRL film. Fnord. 
TANK GIRL: CARIOCA is named after a bar, and it is the name of the martial-arts religion Tank Girl founds in this adventure. There is violence, comedy, tragedy and the evisceration of a sleazy game-show host. The plot is sloppy perfection, complex and layered, but never obvious. But it is in the incidentals that the book really glows.
It's been said oodles of times that TANK GIRL draws its inspiration from a punk-rock sensibility. CARIOCA is no different. The band lineup may have changed during all these years, but Alan Martin is still on the vox and the rhythm section pummels forward. They lost the ghost of Ross the Boss, Jamie Hewlett, on lead guitar to the "band" Gorillaz, but they gained the angular and spastic spirit of Robert Quine in Mick McMahon. 
McMahon is one of the true greats of comic-book art. I grew up reading JUDGE DREDD in the early '80s and while all my friends loved Brian Bolland, I was always in the McMahon camp. "McMahon? You're out of your mind!"
He gave Dredd those giant, chunky boots, all bent and staggered in perspective with scuzzy, hairy lines to Bolland's meticulous perfection. I've nothing against Bolland, who is fantastic at what he does, but he's the cold and precise Kubrick of 2001 when McMahon draws DARK STAR with the cinematic flair of Sergio Leone. 
What he does in CARIOCA is pure joy. Panel after panel, page after another, his chunky line has lost the fuzz that pervaded the early Dredd and Slaine, evolving into semi-abstract action-cubist caricatures that are meticulously composed, furiously exaggerated and lovingly rendered in blissful beauty. 
McMahon is Coltrane to Bolland's Mozart. 
The storyline is shambolic, but therein lies the charm. Somehow managing to be both moving and outrageous while juggling a multitude of ideas, CARIOCA masks its credo in mockery and violence, but that electric vituperance carries over a heartfelt "fuck you" to those who abuse power. CARIOCA being a complex piece of art, this of course includes Tank Girl herself. 
This book contains the oily grail of entertainment in that it has something to say, the means of saying it, and it never fails to entertain the reader. If you're tuned to the correct frequency — the gorgeous, hilarious and semi-all-knowing — TANK GIRL: CARIOCA is a kind of perfection.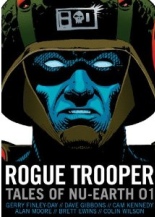 ROGUE TROOPER, one of the stalwarts from Britain's 2000AD, is a genetically engineered infantryman fighting a series of endless battles in the barren wastelands of Nu-Earth. Accompanied by his dead buddies in the form of talking biochips encased into his rifle, helmet and backpack, he delivers justice and retribution to those who deserve it. 
ROGUE TROOPER: TALES OF NU-EARTH 01 contains 400 pages of his early adventures. Mostly written by Gerry Finley-Day, except for the last two which emerged from the pen of Alan Moore, this volume is uniformly solid. That's not always true of these 2000AD volumes given that most share five to 10 authors, which not only causes jarring shifts in tone and character, but can result in some piss-poor stories on occasion.
Being handled by a single author this collection avoids those problems (sure, a few of the shorter stories are less engaging than the others), and the rough-hewn future war storylines are all gritty with touches of melancholia and madness sprinkled within. It also allows a longer story arc to develop throughout the book, and by the time I reached the last page, I was ready to jump to the next volume. Too bad it's not yet available in the U.S.
Illustration duties are spread to numerous contributors, including Dave Gibbons of WATCHMEN fame and Cam Kennedy, among many others. Sure, it's visually a bit all over the place, but given the amount of talent on display, it's still 75 percent gold, the rest ranging from good to serviceable. 
Overall, this is a killer collection, terrific from beginning to the end, and a perfect place to start reading either 2000AD in general or ROGUE TROOPER in particular.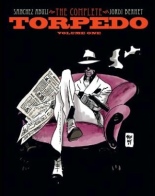 Also, briefly mentioned, the first volume of the complete TORPEDO is available again in an affordable trade-paperback edition. Illustrated by Jordi Bernet and Alex Toth from Enrique Sánchez Abuli's pitch-black crime stories featuring 1930s hit man Loca Torelli, this volume opens with Toth sitting shotgun, but most of the volume — as with the rest of the series — belongs to Bernet. Toth left the project as the stories grew too grim to his taste, but Bernet's free-flowing caricatured style brings out the humor from the grim proceedings, transforming these books into spectacular entertainment. —JT Lindroos