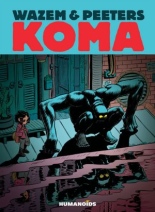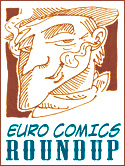 Approaching KOMA, a 280-page behemoth of a graphic novel, I had conveniently categorized it as a story of a little girl and her monster friend. You know, a lightweight comic book take on PAN'S LABYRINTH or one of Hayao Miyazaki's animated wonders. But going at it page after page, I was shocked and delighted at the spectacle unfolding in my hands. 
The graphic-novel format is lenient to creative people. A single person can create it from the first line to a whole new universe. There are no budgetary restrictions; there are no limits to the special effects; the necessity of brown-nosing your producers and actors and other creatives simply doesn't have to exist. Guillermo del Toro wishes he could do something this spectacular in his own field. 
Okay, the story: An unlicensed chimney sweep and his daughter are struggling to get by. The competition is stiff. The girl, Addidas, tends to fall asleep without explanation, but the father can't afford the tests required to find out and fix what's wrong with her. One day Addidas crawls deep down into a chimney and falls down a tunnel where she meets a quiet but smart down on his luck creature. Things get complicated. Things get DARK CITY-complicated. Things get cosmologically and morally complicated. 
The script by Pierre Wazem is intricate and human, but it slowly weaves a universe into form that's delightfully original in its "weird fantasy" concept. Playing against this sense-of-wonder setup is a Kafka-esque bureaucracy, a spectacularly sinister government agency digging into the nature of the universe by any means necessary, and a troubled little girl with her ailing father. 
As terrific as the story is, what then gives the book its one-two punch of conceptual breakthrough is the art by Frederik Peeters. Running from fluently cartoony urban and underground landscapes to vividly flowering scenes of imagined nature landscapes, his work matches the rich wonders of the script with perfectly pitched expressions, gestures, compositions, and movement. Equally adept at drawing melancholy from a scene of horror as he is orchestrating a large scale action scene, Peeters' work is effortlessly masterful. 
It's impossible not to be impressed with such a vividly original storyline combined to this level of superb artistry. It beautifully balances gentleness and cruelty, and is equally comfortable tugging at your heartstrings as it is simply entertaining you. So I heartily recommend this big story of a little girl and her monster friend.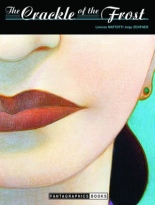 Lorenzo Mattotti and Jorge Zentner's THE CRACKLE OF THE FROST is very different from KOMA, but equally wonderful. Somewhat reminiscent of the best early work of Paul Auster, this book tells the story of a man beleagued by his decision to flee when his girlfriend wants to have his child. 
THE CRACKLE OF THE FROST is a work of considerable beauty. It's not beautiful in the way a traditional comic book might be: This is conceptual, sometimes abstract and always expressionistic in its allure.
What makes it bloom right off the page is the balance of the story and the artwork. The scenario by Zentner allows for the artist to illustrate emotional states in a way impossible to do in any other medium. What Mattotti does with the possibilities is spectacular. 
His paintings are at their most graceful when he plays with light and shadow in perspective, as in showing a group of men trying to curb a raging forest fire, or our hero looking up a lighted city window at dusk, or a flock of black birds chasing a woman in black down a hospital corridor. His visceral use of color, and especially his liberal strokes of red — whether subtly circling a face to create a disturbing out-of-focus effect, or splashing it over walls and counters — enforces the emotional effect of the work. 
Keeping up with the cinematic reference points, CRACKLE is close in tone and style to a Wim Wenders (e)motion picture. It's oddly formal and structured in that it posits two paintings on each page, but equally naturalistic in the way the story flows from one moment to the next, aware and informed of what has happened before but unencumbered by this knowledge. 
THE CRACKLE OF THE FROST is realistic in a manner very few graphic novels are, pinpointing a phantasmagorical and poetic vision of human relationship in its naturally nonlinear movement. It's also a perfect example of a work that might appeal to someone not customarily interested in comics.  —JT Lindroos