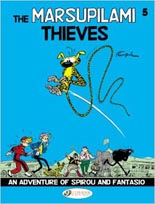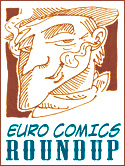 Something seriously wonderful occurred in November. Most probably didn't notice, but it's equally delightful after the fact. Did you realize that THE MARSUPILAMI THIEVES was published in the U.S.? In English? Which is the first time any of the great André Franquin's work has been released here since … what? Since Fantasy Flight published Z IS FOR ZORGLUB about a decade ago (used copies go for $100 a pop today).
So why is Cinebook's release such a momentous occasion? Who the hell is this Franquin? What in Zorglub's name is a Marsupilami? Why does this Spirou bellboy character look like David Tennant as the 10th Doctor? Most of these are valid questions.
Franquin was the first person to be awarded the Grand Prix Award for his body of work at the famed Angoulême Festival. Before Will Eisner, Robert Crumb, Moebius, Jacques Tardi, Art Spiegelman and all those familiar names followed suit. He was the artist Hergé (of TINTIN fame) admired most, considering himself but a poor draughtsman compared to the magic that poured out of Franquin's pens. 
His characterization is pure comics classic and, to a casual observer, somewhat similar to the impeccably polished clear line of TINTIN. But Franquin's penmanship is bouncy and fluid, curling in cursive to form wonderfully exaggerated movement. Looking at Peter Bagge's great Buddy Bradley stories, I can't help but think they are the American answer to Franquin's Gaston Lagaffe; Bagge confirms he was, like the rest of the English-speaking comics community, unfamiliar with Franquin's work until years after he started to draw Buddy. But any fan of Franquin, and especially Gaston, should of course check out Bagge's brilliant output.   
But I digress. Even though Franquin didn't create the characters of Spirou and Fantasio, two globetrotting, adventure-chasing journalists, he singlehandedly made them the icons they are today across Europe (and parts of Asia). He did, however, create the gruff, super-strong, black-spotted, yellow semi-monkeyish creature with a rather extravagant tail called Marsupilami.
Marsupilami appeared in 17 Spirou books, and continued with his own series of books which number near 30 by today, and somehow ended up with his own Disney TV show in the process. (I haven't seen it, and from what I know, the character is quite a bit different from the original comic creation.)
Which, finally, brings us to these two books at hand: Franquin's THE MARSUPILAMI THIEVES and THE VALLEY OF EXILES, a later episode by the team of Tome and Janry.  
Neither book is the cream of the crop of Spirou adventures, but they're both fine examples with some spectacular passages, and have a different approaches to the base setup. Oddly, MARSUPILAMI THIEVES — at the request of the French publisher — is the first Franquin book published by Cinebook. It's odd because this is the second part of a two-part story, continuing directly from when Spirou and Fantasio capture and befriend the titular creature, to its current position as an exhibit at a zoo.
Our reporters are then told that the Marsupilami has suddenly died, and as they come to take a look at it, his body is stolen in one of the two brilliant set pieces within this book, and the story propels into full gear. Much chaos ensues, including a show-stopper sequence featuring a hilarious if insane solution to being harassed by the bureaucratic gears of the French customs officials. 
THE VALLEY OF EXILES is somewhat darker story, like Arthur Conan Doyle's THE LOST WORLD cross-pollinated with Harry Harrison's DEATHWORLD, all stirred and shaken into a bombastic mix of cartoony slapstick. 
Now, there are some fairly significant differences between Tome and Janry's version of Spirou when compared to Franquin's. Franquin did not originate the strip or the characters, but he made them incredibly popular. However, Tome and Janry's work might even be more suitable to kids today, with its witty repartee, a slightly tougher and formalized narrative, as well as being fairly busily drawn and designed. 
I personally prefer Franquin precisely for the opposite qualities. His work is full of oddball whimsy that never comes off as calculated. He pulls in offbeat and nonsensical ideas, weaving them into the stories that hiccup along with scattershot precision. The ideas don't always cohere, or end up with perfectly aligned chaos, but the fits-and-spurts momentum is what makes them incredibly charming.
Conceptually, these narratives can be preposterous in a way that make no sense whatsoever to the storyline or the characters, and this makes his work feel improvised. Franquin said he was never sure if his jokes were funny, so he would litter each image with small visual gags allowing further discoveries upon rereads. In some of his books, Franquin even turns his signature into a single-panel gag, page after page after page. 
While Tome and Janry write lovely little power-pop songs, Franquin runs amok combining Raymond Scott and Miles Davis to form off-kilter genius that might not quite make sense, but is a delight to experience. So I would rather whole-heartedly recommend trying both. A substantial portion of the audience will be likely to enjoy Tome and Janry better, but personally, I love the fact that both are available at the same time. I asked Cinebook translator Jerome Saincantin about future plans for the series, and he confirmed that both Franquin and Tome/Janry books would be continued side by side, one after the other, which is wonderful news, of course. 
Franquin's Spirou is a key work to understanding and appreciating classic European comics. That it works as brilliantly today as it did when it was originally published is proof positive of his casual genius. His later work surpassed what he accomplishes in these pages (e.g. SOS BRETZELBURG, but supporting publications such as this is an effortless and affordable way to help open the floodgates for that massive repository of work, classic and modern, held hostage by as uncomplicated a thing as a language barrier. 
Finally, the publication of THE MARSUPILAMI THIEVES is something of a happy/sad moment for those who love Eurocomics, given that Kim Thompson passed away  suddenly earlier this year. As the co-publisher of Fantagraphics, he was one of the hardest working people involved in bringing European comics to the U.S. marketplace. Franquin was his favorite artist, and Thompson had scheduled the publication of Franquin's LAST LAUGH for late 2013, his second attempt at this after translating Z IS FOR ZORGLUB in 1995, not to mention publishing a few Gaston strips under the name Gomer Goof in the early 1990s.
In the last few years, he succeeded in getting the American readership interested in Jacques Tardi. As Fantagraphics proceeds to pick new translators to the slate of delicious comics left on Thompson's plate, we can hope he posthumously will do the same for André Franquin.  —JT Lindroos