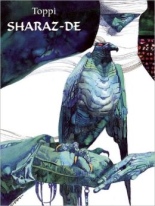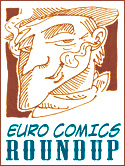 Sergio Toppi was an astonishing Milanese genius whose penmanship knows no peer in the world of comics. His sense of dramatic layout is as close to Gustav Klimt as this bastard form of art is ever likely to get. SHARAZ-DE, his 1979 take on the TALES FROM THE ARABIAN NIGHTS is one of his masterpieces, and it's finally out in a stunning English-language edition from Archaia Entertainment. 
I could go on less than eloquently about Toppi's virtues as an artist utilizing the comics form to its utmost; the tremendous sense of genius oozing from each page; the marriage of the classic tales of Shakespearean proportion to his own heavenly compositional abilities; or even the staggering influence of his work to people like Bill Sienkiewicz, Walter Simonson or Frank Miller, some of who loved these books in their foreign editions they could only see, not read.
But instead of my trying to put the pictures into words, all that can be accomplished by doing a simple Google images search: Sergio Toppi.
SHARAZ-DE is more than 200 pages of incomparable beauty, in color and black-and-white, always intuitively and with intelligence telling the TALES FROM THE ARABIAN NIGHTS. Essential, long overdue and now easily available for all to enjoy. Please do.
Then take a breath.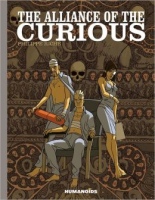 Next up is the Humanoids hardcover release THE ALLIANCE OF THE CURIOUS. An unknown (to me) French writer/artist tackling antiques and hidden secrets? I like the cover, but how to approach that hoary old storyline with any chance of success?
Here's the setup: An old lady dies during a heat wave while her adult son is out looking for water. The son gets detained; the body of the mother gets stored in a temporary morgue; and their landlord sells all the junk left in the apartment. Our antique-dealing leads acquire said junk and come across a peculiar skull adorned with ancient jewelry. Things get complicated very quickly. 
Philippe Riche's ALLIANCE OF THE CURIOUS gets blurbed as "DA VINCI CODE on acid," and while that's a bit of an exaggeration, there's a kernel of truth in it that's hard to verify for someone who neither has read nor seen THE DA VINCI CODE. I'm also fairly sure that it's off the mark regarding acid, but I'd give thumbs up for FOUCAULT'S PENDULUM on weed and cocaine — which is to say this is a superior modern action-adventure in a secret-history setting, featuring coked-up female assassins and lead characters who occasionally may have herbed up. 
Visually, this is a standout treat. It's not composed in the manner of SHARAZ-DE, but then again, it's not meant to be. The artwork is consistently gorgeous and distinct, all shards and angles. It's active and detailed; it flows naturally, but in a curiously long-limbed cartoon Modigliani style. It spends quality time on irrelevant details, which is part of its unique charm. 
The oddball characters do the same, talking about pasta al dente amid the flying bullets, mysterious amulets and Neanderthal hood ornaments during high-speed chases. There's a host of ancient race memories in flashback form to provide some meat around the bones. Purposefully sloppy, the setup and execution oozes character and charm: No Swiss clockwork, this ALLIANCE has the organic perfection of an albino meerkat. 
In summation, THE ALLIANCE OF THE CURIOUS is smartly constructed, with short bursts of action peppered throughout a slow, but exceptionally engaging exploration of the main mystery, which all leads up to a knockout ending as perfect I've come across in ages.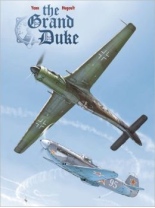 Less mysterious and more realistic is Archaia Entertainment's THE GRAND DUKE, an air-combat melodrama set in the Eastern Front during WWII. 
German ace Adolf Wulf is one of their best, but he's fighting for his country, not its politics. At the same time, The Night Witches, the most decorated female unit in the Soviet Air Force, are furiously trying to keep the krauts at bay, and leading that charge is ace pilot Lilya Litvaski. This sets up the stage for a dance of death between the two countries while their apolitical aces struggle against their own merciless war machine, and still find time for their own little ROMEO AND JULIET storyline. 
Romain Hugault knows his airplanes, and whether illustrating a Lavochkin La-5 or the new Heinkel He 219 in battle or on the ground, his attention to detail is astonishing, and the sense of flight is consistently exciting.
The characters and their interactions are melodrama in the grand Hollywood tradition, though this is far closer to Paul Verhoeven than Michael Bay. This is true of both the art and the storyline, so one can assume this to be a purposeful approach. Like Verhoeven, THE GRAND DUKE occasionally slips into cheese, providing big bedroom boobs to a storyline otherwise courting a female audience.
Hugault does well when his characters are discussing grave concerns, but when he has both men and women posing in corny glamour shots, I weep a little. Still, the bulk of the book has been written and directed to be exciting and entertaining, touching on real issues and raw emotions, far enough removed from reality to be accessible.
Reading THE GRAND DUKE, I was fondly reminded of DC Comics' Robert Kanigher/Joe Kubert classic ENEMY ACE (Oberleutnant Wulf has a pet owl he takes out hunting in the woods!), and if you liked those stories, you're likely to find little fault in this tome. 
In my case, with slight reservations, this is a fine entertainment with interesting history lessons and some truly spectacular airplane action. —JT Lindroos
Given that you have made it to the end, you might be interested to know that EURO COMICS ROUNDUP now has a Facebook community page. Therein, you may find sample pages from featured reviews, additional commentary, news, discussion and further links for subjects at hand.