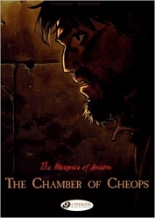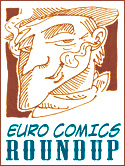 The fifth stand-alone volume of Cinebook's Marquis of Anaon series, THE CHAMBER OF CHEOPS, delivers a fabulously satisfying final adventure, written with care, sensitivity and intelligence by Fabien Vehlmann and illustrated in a moodily cartoony style by Matthieu Bonhomme.
This time around, our young hero, Mr. Poulain, inherits a large amount of money from a man he never knew. He's not the only one to be on the receiving end of this gift, but he is the only one who wants to understand his dead benefactor's motives. In his search he travels to Ottoman Egypt (circa 1730's) and comes face to face with mystery, adventure and the harsh realities of life in that day and age.
As with the previous volumes, Vehlmann's script is concise, lucid and carefully constructed, but layered with compounded social complexities that are allowed to emerge from the storyline naturally. There is a certain kinship to the work of Hugo Pratt in these stories, in how Vehlmann drops his lead character into situations revealing regional social and political structures, issues of racism, exploitation and other problematic subtexts in the guise of a historical adventure. And adventure this all is, above all, albeit grounded in reality. There's a constant sense of wonder and mystery to the swiftly moving proceedings, though — as with the previous volumes — there is a certain Fortean slant to the events, sometimes casually tossed in as comments about the causes behind "rains of blood" in the British Isles, or a somewhat larger plot point about archaeoacoustics, all adding to the mysterious delights of the series.
Now I should also stress that it's not just Vehlmann's script that makes these books stand out. Even the social subtext comes through from Bonhomme's art, and it appears in each and every page, whether dead center or on the sidelines of individual frames. His art is the essence of cartooning, fluid and caricatured, playful but capable of deep emotion. Some of this doesn't even register on one read — I plowed throughout the book pretty quickly, only to go back the next day and spend time with each frame to get a deeper appreciation and understanding of what the duo has accomplished here. As Poulain meets one of the wealthy Frenchmen residing in Cairo, both in colorful clothes in the center of the frame, a darker figure shadows the foreground, carrying a bag over his head, his back scarred from whippings. You might not even notice the slave, your eye drawn to the main story presented in colors and dazzle, but this frame is only one easy example of similar detail throughout the book, pointing out the decadence and injustice that permeates this (and just about any other) era.
And all of this is still woven into the story, under the surface and there for us to understand with our modern eyes. This kind of raw, non-preachy empathy is one of the reasons this book is such a wonder. As with each of the earlier volumes, my only problem with these books is that the complexities of character and story could have supported tomes twice the length.
THE CHAMBER OF CHEOPS is a literary, exciting and moving book, and to this reader the Marquis of Anaon series is the finest adventure comic series created this century. As a finale it doesn't wrap up anything besides this volume, leaving the door open for further books. I sincerely hope they'll be back one day.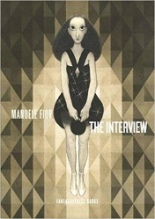 And speaking of Fortean themes in comics, Manuele Fior's THE INTERVIEW from Fantagraphics kind of fits the bill. Set in Italy, mostly in 2048, this is a story about people in slightly science fictional surroundings. The opening of the book slightly echoes Steven Spielberg's CLOSE ENCOUNTERS OF THE THIRD KIND as our protagonist, a middle-aged psychoanalyst Raniero who is having martial troubles, has a mysterious encounter leading to an accident. The next day, wearing a neck brace, he gets a new, young female patient — Dora — who seems to know something about his incident. This propels the intricate story into motion, discussing gender and generational differences, human emotion and interaction, with a possibly extraterrestrial mystery looming around the periphery.
Now like Fior's earlier English-language release, the spectacular 5,000KM PER SECOND (also from Fantagraphics), this is a spellbindingly beautiful book. Unlike the earlier book, done in lush watercolor, THE INTERVIEW is tonally muted to black and white and all the shades of grey. When reviewing 5,000KM, I felt it compared far more to arthouse films of Abbas Kiarostami than to other comic books, with the possible exception of Jaime Hernandez's then-recent LOVE BUNGLERS. For THE INTERVIEW, Fior has said he wanted to evoke the black and white films of Michelangelo Antonioni for this book. If you've seen those films, perhaps particularly L'ECLISSE, which is set in a futuristic area of Rome (THE EUR — with its own fascinating history), you are perhaps on familiar ground with this book. It does come across as partially a 1960's vision of the future, which is not to say it's dated, but a vision that reminds you how imagining the future used to encompass societal and emotional elements rather than just the technological. A vision of the future coming out of the new wave sensibility of that era, artistic, experimental and yet deeply human.
So keeping it with that earlier review of Fior's work, THE INTERVIEW is then more Antonioni and Godard's ALPHAVILLE than any other comic book, though perhaps this time the book is more closely in line with the work of Beto Hernandez. The storyline also works as a precursor to some of the thematic concerns of the film ARRIVAL. Overall, this is a wonderfully produced, emotionally whip-smart, propulsive and thoroughly engaging volume that is far more concerned about human interaction than it is about the science fiction elements of the story. Those just add another layer of interest to the book's core. Highly recommended.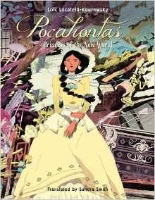 Finally and belatedly, a few words about Loïc Locatelli-Kournwsky's POCAHONTAS: PRINCESS OF THE NEW WORLD from Pegasus Books. This gorgeous volume that retells this story from pre-colonial America is intelligently written and page after page full of vividly individualistic artwork that is a marvel to read and enjoy whether you know the details of the tale or not. Locatelli-Kournwsky's pens are incredibly fluid, and while there is a certain outward simplicity to the art, his compositions and detail and emotion all add to the beauty and intelligence of his work. This is not a Disney version of the story, though it's not particularly harsh either, but the work retains a deep humanistic and realistic vein that elevates it far above average. What Loïc Locatelli-Kournowsky does isn't groundbreaking, but it is poetic and energetic, and the storyline goes just the right amount beyond the common confines of the tale, with a hauntingly elegiac ending that resonated with me weeks afterwards. —JT Lindroos
If you enjoyed these reviews, why don't you join up with our Facebook group for additional content, updates, discussion and more.