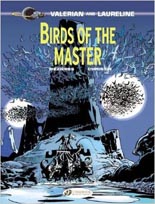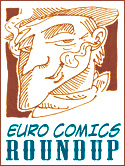 After a bit of a break, we're back with another batch of Eurocentric comic-book wonders.
First off, Cinebook has come out with the fifth volume in the adventures of Valerian and Laureline. These spatio-temporal agents of Galaxity continue their travails across the known and unknown universe solving and sometimes causing problems. Bouncing from planet to planet, story to another, all of these classic space-hopping, science-fiction pulp adventures are gorgeously illustrated by Jean-Claude Mezieres and sharply written by Pierre Christin. 
The latest title, BIRDS OF THE MASTER (http://www.amazon.com/Birds-Master-Valerian-Vol-Laureline/dp/1849181527) (originally published in 1973), features our intrepid protagonists stuck on an uncharted planetoid after crash-landing their spaceship amid, oddly enough, hundreds or thousands of other spacefaring craft. 
They bustle and bluff through a series of fantastical adventures featuring oddball aliens, a mind-melting mass of braying buzzards and innumerable rescues, escapes, fights and other derring-do. As always with these books, there's a subtle and sly underlying streak of social consciousness. This particular volume makes points about slavery and the corruptive nature of power, while never letting go of its innate sense of wonder and adventure. 
The cumulative effect of these stories makes it one of the great science-fiction comic books, but even without knowing the particulars of the previous episodes, the individual volumes are pure joy from beginning to the end. You could compare these stories to the wonderful planetary romances of Jack Vance, and should always be reminded that George Lucas and many other filmmakers have mined these books for some of the more spectacular imagery in the post-1970 history of science-fiction film.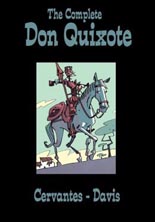 Speaking of spectacular imagery and follies of filmmakers, British Rob Davis took on the task that Terry Gilliam has tried and tried and failed spectacularly at, which is to adapt Don Quixote on a grand scale. Madness, right? Yes, but the good kind. 
SelfMadeHero has published Davis' spectacular THE COMPLETE DON QUIXOTE in one whopping, 400-page package, and I can finally say I've read the stories about that Man of La Mancha. 
The complex, witty, exuberant and earthy tale (which I will refrain from regurgitating here) has found itself a worthy chronicler in Davis. His swift and scrappy drawings are pure pleasure, awash with sympathy and humor, dignity and desperation — whatever the tale requires — with superb clarity. His pencils gleefully animate the limber characters and stark settings to accentuate any situation. 
Equally up to task are his colors. Page after page, this is a gorgeous book to just flip through. Vividly solid blocks of color make the imagery jump out with pop art punchiness. Overall, the style reminds me of Darwyn Cooke, except more exaggerated. 
Having not read the Cervantes book, it's impossible for me to compare, I feel like I know it now, yet still want to read the original. Davis' COMPLETE DON QUIXOTE, as a separate entity from Cervantes' classic, is a wonderful publication while we, again, wait for Gilliam to battle his windmills.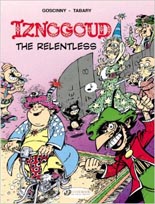 Continuing on all things scrappy, the latest volume of IZNOGOUD from Rene Goscinny and Jean Tabary is the perfect opposite to the 400-page behemoth. The titular character, the idiotic and incompetent Grand Vizier of Baghdad, wants to be "the caliph instead of the caliph." He attempts to accomplish this by any means necessary, and is always foiled. This is the setup for the series, and the collection at hand, IZNOGOUD THE RELENTLESS. 
This 10th volume consists of eight-to-12-page short skits which take that base situation, only to inject it with a supercharged potion consisting of screwball ideas, wit, time travel, puns, magical flutes, magnificent idiocy and an ever-escalating sense of sequential slapstick, resulting in perfectly controlled chaos. 
Cleverly written by Goscinny, better known for his classic scripts for Asterix and Lucky Luke, IZNOGOUD stands equal to both of those showcase strips. It's kid-friendly, though focusing on a hysterically aggressive nincompoop makes it stand out from its gentler counterparts. Tabary's art is sharply exaggerated, and a bit messier than Morris or Uderzo, but it fits the chaos that is IZNOGOUD.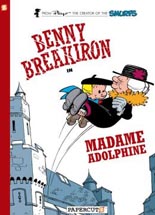 In a similar, if roundabout vein, and aimed more squarely at children, is Peyo's BENNY BREAKIRON #2: MADAME ADOLPHINE. Peyo, the creator of The Smurfs (ignore the movies, but try some of the early comics), writes here about the misadventures of an impossibly strong kid, kind of a pint-sized Superman, whose kryptonite is the common cold. When he stars to sniffle and sneeze, he loses all his super powers, and this — of course — happens fairly frequently.
Now, this may sound like kid-stuff, and it is, but it remains far more entertaining and intelligent (to me) than watching spandex-clad idiots smashing buildings and saving planets. Benny is just a small boy with small(ish) problems. Like, in this case, a little old lady named Madame Adolphine, who is being impersonated by a devious robot, poised to take control of the criminal underworld in order to vacuum-suck dry the coffers of many a big bank. 
Page to page, panel to panel, this series is beautifully drawn, riddled with gags and a general sense of fun, suitable to absolutely all ages from kids to grandparents. If there's a complaint to be had, I wish this had been printed full-size instead of the pint-sized U.S. standard. Yet it is perhaps even better-suited for young readers in this size, and being a well-bound and colorfully printed hardback at a superbly affordable price point, I find it difficult to complain. MADAME ADOLPHINE is equal to the delight-filled first installment, and I'm eager to get my hands on the next volume, coming soon.
Next time, we'll discuss the genius that is André Franquin. —JT Lindroos