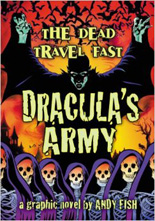 This latest graphic novel from illustrator and author Andy Fish (WEREWOLVES OF WISCONSIN) is not what it originally intended to be (more on that later) and has a slightly misleading title. DRACULA'S ARMY: THE DEAD TRAVEL FAST is, bottom-line, an illustrated retelling of Bram Stoker's classic vampire novel with a few extensions suggested, Fish insists, by the original story.
We have Jonathan Harker traveling to meet Count Dracula in the count's huge, secluded castle high atop the Transylvania mountains. Harker makes arrangements for the count to travel to London and live on property the count recently acquired. Then Harker discovers that Dracula is a vampire and tries to prevent his leaving the castle.
Harker's efforts fail, and Dracula arrives in London and begins spreading his vampire cure to Harker's fiancé and others nearby. In desperation, Harker's family and friends enlist Dr. Abraham Van Helsing to destroy Dracula and halt the vampire's quest for dominance.
 
So what are these extensions? Well, for one, the Harker character evolves from his unsuspecting, frightened state when he first meets the count to a full-blown and hell-bent vampire hunter. Also, once settled in London, Dracula creates an "army" of minions — including zombies and various shape-shifting demons — to protect him and aid in his plan to overthrow all of London and eventually the entire world. Van Helsing, Harker and the others must first battle these minions before they follow Dracula back to Transylvania for the final encounter.
 
In the few pages of "End Thoughts" following the story, Fish reveals that his original plan was to set the story in 1931 and have Dracula assist the growing Nazi party and the movement toward World War II (shades of Kim Newman's alternate-history horror series, ANNO DRACULA, and particularly THE BLOODY RED BARON). Then Fish decided instead to stay with Stoker's masterpiece, adding the few enhancements mentioned above.
 
The "End Thoughts" is also where Fish shares his thoughts on the style of his illustrations. Feeling that Stoker's story called for a less cartoon-influenced style, he enlists a mostly photorealistic depiction of his characters, filling his drawings with shadows and darkness. But Fish wanted Dracula himself to look more like the vampire in F.W. Murnau's 1922 classic film, NOSFERATU, so the count appears in sharp contrast to the other players with his bald head, rat-like pointed ears and green-tinted skin.
Fish also utilizes several different frame sizes and various transitional techniques to present the narrative with its shifting focus and narration. Each page is surrounded by a thick black border, further enhancing the story's somber mood.
 
But at the end of day (yes, when the count is about to rise from his coffin) do we really need another retelling of Stoker's DRACULA? That depends, of course, on how many different presentations of the classic tale you already possess.
 
For those who somehow missed the many earlier illustrated renderings, Fish's book is a very fine addition to your horror collection. Others more familiar with vampires and their recurrent traditions and popularity in various forms and media should beware that, in spite of the title, DRACULA'S ARMY is not a continuation of the original source material.
 
If nothing else, Fish's latest reminds us what we so love about Stoker's tale and especially its central character that went on to become the indisputable archetype of any and all fanged, bloodlusting creatures of the night. —Alan Cranis