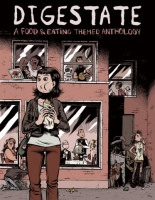 I look upon big, thick indie comics anthologies the way carnivores do with a steak, so it's ironic — or is it? — that DIGESTATE could arrive on my plate. Published by Birdcage Bottom Books, it's a thick and juicy collection of pieces dealing with food. Yum!
Still, I should warn potential readers that a chunk of the offerings may make you want to swear off eating altogether, or at least turn you vegetarian. The brilliant endpapers by John Kershbaum should clue you in: The front depicts horrified items of food scrambling to prevent from going into the hole that is someone's mouth; the end depicts those items converted into fecal matter, struggling to get out of a different kind of hole. Yum?
Edited by J.T. Yost, the trade paperback runs a meaty 288 pages and features 55 artists. You've even heard of some of them, including Berkeley Breathed (Bloom County), Dan Piraro (Bizarro), Jeffrey Brown, Alex Robinson and James Kochalka. And from those you haven't, there's real talent there, too.
DIGESTATE opens with Cha's (just Cha) Gwenaëlle the Babysitter character lulling her young charges to sleep with the "true story" of the three little pigs — you know, the one that involves castration, ear tagging and fatal jolts of electrocution. Gwenaëlle returns as the penultimate piece to do the same to cows.
Plenty of goodness stands in between those gruesome gallows cartoons. Some highlights:
• Robinson reminisces about his picky eating habits as "That Peanut Butter Kid!";
• In "Dead Meat," Jeremy Tinder discusses his lifelong love of meat, from hamburgers and hot dogs to porcupine meatballs;
• Noah Van Sciver, my recent new favorite indie cartoonist, recalls the day he made the not-so-wise choice to eat "3 Bowls of Raisin Bran";
• Yost himself contributes the sizable "Slaughterhouse Stories," each page of which relies upon a single striking image to illustrate testimonials by actual ex-workers; and
• Pranas T. Naujokaitis' "The Tell-Tale Burger" tells the tale of a man driven to eat fast food in secret … if the guilt doesn't kill him, that is.
While the contents vary from factual to fictional, and serious to humorous, DIGESTATE feels like a solid collection. Only a small handful failed to click with me; Josh Bayer's purposely rough-and-messy work falls into this category, but at the same time, at least it struck me as E.C. Segar gone mad.
Support indie publishers this holiday season by buying DIGESTATE for the foodie and/or comics lover near and dear to your heart — not just because it's a cool thing to do, but because the offering is actually damned tasty. —Rod Lott