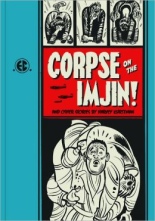 These two books are the first volley from Fantagraphics' THE EC LIBRARY, an author-centric release plan of some of the most loved and influential comics published. If you read and enjoy sequential art in any of its forms, you should know and appreciate EC's contributions to the art form. If, for any reason, they're off your radar, here's where you should start.
The first volume, CORPSE ON THE IMJIN!, is written and sometimes illustrated by Harvey Kurtzman. It compiles the best war comics from Kurtzman's pen, featuring anything from the days of the buccaneers to the war in Korea. 
His stories at their best illustrate the immorality of war, the man as the cog in the machine, crushed by the uncaring power that makes that machine turn. Theses stories show the effects of war on individuals, their families and their dreams.
Given that this book in particular has received some negative reactions in the comic-book literati for the fact that not all of its stories are obviously humanistic and anti-war, I think it's worthwhile to point out that these were published for entertainment purposes. But even those stories that appear jingoistic on the surface are informed by the surrounding tales, all written by the same individual.
Taken out of the context of the book, you could read some of them as hymns of nationalistic pride, but when surrounded with such deep anti-war sentiment, you can widen your perspective and notice that even those stories can be looked at from a different angle. A story depicting heroism, racism or nationalism shouldn't have to spell out that it doesn't condone the actions of its characters. The ability of Kurtzman to have conflicting viewpoints to the myriad stories and situations within this volume is what makes it so rich. 
Now what Kurtzman does with his pens is spectacularly fluid. The balanced movement of his lines ebb and flow naturally, casually, yet always within strikingly composed panels. The faces, cartoony and exaggerated, show raw emotion through visual shorthand that captures these characters, who under lesser hands would fall victim of caricature, as viscerally and believably human. You could, based some of the lesser stories, consider this a parlor trick, but in those instances when both the story and the art melt into pulp perfection, the trick is elevated into art that moves you intellectually and emotionally.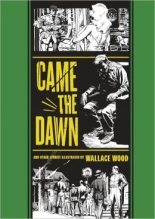 Somewhat less successful is the second volume, Wallace Wood's CAME THE DAWN. Featuring stories mostly from the writing pen of Al Feldstein, they show their age. The overabundance of text, much of it hyperbolic explication of what you see in the panels, is sometimes painful. 
Having said that, I still found plenty to enjoy. What everyone is coming here for is Wood's art. Shown in dynamic black and white, it's page after page of lovely penmanship, with a clear progression in his abilities as the chronologically sequenced book proceeds. His line is much more precise and realistic than anything in the Kurtzman volume, but he has a flair for a dynamic layout and positioning of characters that pulls the art to the kind of pulpy mayhem for which EC is best known. 
I know there are readers who find some of the stories robbed of their power when printed in glorious black and white, but if you haven't seen them like this before, I heartily recommend it, and applaud Fantagraphics for showing the art in its bare essentials. 
So there are some (quite a few) stories that may come across to the "cultured modern reader" as crass and ignorant, but isn't that why people love MAD MEN? Remember that these stories, when they came out, had not been remade and regurgitated thousands of times in the intervening years. And still some of those, like the title tale of backwoods cabin fever, push through all those years and remain highly charged pieces of pulp perfection despite being familiar. How else are you going to approach John Huston's MALTESE FALCON these days, or John Carpenter's HALLOWEEN?  
The work by Kurtzman, Wood and many other EC artists are still standing the test of time, and these affordable & gorgeous editions showcase the many reasons why. And while I recommend the Kurtzman volume above Wood's, it's only to suggest which one you should purchase first. You should, of course, get both, and then count the days for the next set to hit the shelves.  —JT Lindroos