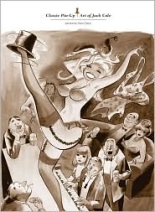 Jack Cole is known for creating Plastic Man, the superhero whose limbs can stretch. But the artist also drew cartoons capable of making readers' other parts stretch, and the proof is in the prurient pudding of CLASSIC PIN-UP ART OF JACK COLE, newly available in paperback from Fantagraphics Books.
The 100 pages' worth of cartoons of comely, curvy cuties come culled from low-rent men's digest magazines of the 1940s and 1950s — now-forgotten rags with happy-go-lucky names like ROMP, JOKER and LAUGH RIOT. But Cole's contributions are visually indelible.
As editor Alex Chun notes, unlike Dan DeCarlo and Bill Ward (who have their own PIN-UP collections from Fantagraphics), Cole gifted his girls with C cups, rather than Ds, although several examples soundly dispute that claim. Regardless of exact measurements, the women here are top-heavy with hourglass figures, and yet somehow simultaneously exude innocence and sexiness.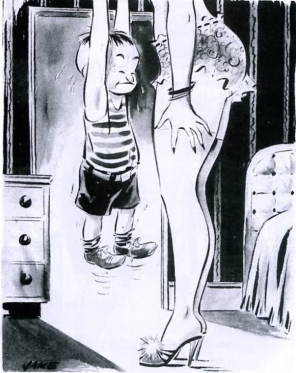 Chun splits Cole's single-page gags into three sections: line art, washes and originals. The artist disappears behind his subjects, letting the black lines of his ladies do all the talking. Again unlike DeCarlo and Ward, I'd argue that Cole's style is not as immediately recognizable. That's not stated to diminish his artistry, however. Whereas you could put DeCarlo's pin-up work against his ARCHIE work and see no difference, Cole's girls are distinctly different from his POLICE COMICS stories, as if he purposely altered and adapted his style, depending on the job. Even his PLAYBOY watercolors look markedly different from his other periodical work.
As for the jokes, what, you read the captions? As is the case with so many of these one-panel gags, the words sometimes are meaningless, even interchangeable. But a few of Cole's punchlines are standouts. I'll admit to even laughing out loud at two of them:
• Although out-of-frame, a bosomy woman complains to the boy hanging from her hangers: "Junior, can't you do your chin-ups on something else around the house?!"
• As several men in a courtroom go ga-ga over a shapely young thing in the witness stand: "We have reached a verdict … WOW!"
I second that motion. —Rod Lott