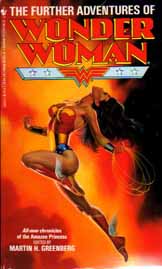 I've always had a thing for Wonder Woman. Get your mind out of the gutter, perv. There's nothing hinky going on here. Lynda Carter aside, I know Wonder Woman — aka Diana, daughter of Hippolyta, queen of the Amazons of Themyscira (itself with the aka, Paradise Island) — was a four-color comic book character and not flesh and blood. No, my connection with the first Princess Di* goes back as long as I can recall, to when I first began reading comic books, circa 1960 at age 5. There was a used book store around the corner on St. Johns Place in Brooklyn, run by a strange man named Dave Solomon, and coverless comics could be had for two for a nickel, or some such sum (say that three times fast).
For whatever reason, I went for WONDER WOMAN. In those days, it was written by the incomparable Robert Kanigher and drawn by the amazing team of Ross Andru and Mike Esposito. Ostensibly a superhero comic, WONDER WOMAN was more like a fairy tale featuring a superhero.
In these stories, Wonder Woman existed as herself, as the teenaged Wonder Girl and as the toddler Wonder Tot. In all these inexplicable incarnations — sometimes as flashbacks, but also sometimes all three existing simultaneously; Kanigher, a truly mad genius of comics, was never one for continuity or common sense — she cavorted with mer-people, bird people, giant genies, dinosaurs, mythological creatures and whatever came to Kanigher's mind as he pounded away at his typewriter, churning out a prodigious number of pages in his career. (Some claim he holds the record in the field; if he doesn't, he's unquestionably in the top three).
Take a leap ahead to 1994. I'm now editor of the monthly WONDER WOMAN comic book. Plus, over the previous 20 years in the field, I'd been privileged to know Kanigher and to befriend Andru, who was also my editor on a few stories in the late 1970s and also drew some comics I wrote.
And what's any of that got to do with this column? Just my introduction to a quartet of books starring my favorite amazing Amazon, beginning with the 1993 anthology THE FURTHER ADVENTURES OF WONDER WOMAN, edited by Martin Greenberg and featuring a lovely cover by painter Joe DeVito. (Bantam Books published five other FURTHER ADVENTURES volumes, one starring Superman and four with Batman.)
Fittingly, woman writers are well-represented, providing half the book's eight stories. Among these femme pens are Karen Haber, Pamela Sargeant, Elizabeth Ann Scarborough and Mindy Newell, who had earlier written the WONDER WOMAN comics. Her story, "Somebody's Baby," goes to the root of the character, examining how the discovery by Wonder Woman of an infant abandoned in an alleyway affects her life and the lives of her supporting cast. There are two schools of thought on the character, I suppose: the Guy Way and the Woman's Way. Guys see a chick in a costume; they start her punching bad guys (or, better yet, another chick in a costume). Women see the same picture; they take you to who this person is and why would she possibly wear that nasty costume.
On the men's side, Joey Cavalieri (another comics vet), Will Murray, Henry Slesar and Edward Wellen round out the volume. Cavalieri's contribution is "The Linda Nesselrode Tapes," a tight tale about the efforts of the eponymous Nesselrode, editor of a woman's magazine named after the heroine to not only understand who Wonder Woman is but to find a way to sell that idea to the public without losing her job and selling out the idea at the same time. Wonder Woman, though she never appears in the story, nonetheless comes forward to save the day, if only by her example, which, sonofagun, was the message all along.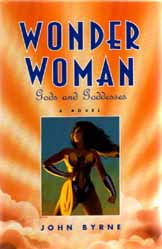 In 1997, while I was still editor of WONDER WOMAN, Prima Books published the WONDER WOMAN: GODS AND GODDESSES by John Byrne, who was, at the time, the writer and artist of said comic. As the book is dedicated to me, I won't even pretend impartiality, but it really doesn't change the fact that I thought Byrne pulled off his story even before I saw the dedication. In it, he examined the impact on a world where the gods of Greek mythology are proven to exist, leaving the Judeo-Christian-Muslim-Buddhist-etc. faiths with a lot of unanswered and disturbing questions.
Wonder Woman is made the focus of the anger generated by this question of faith — a fire fueled by a powerful newspaper publisher convinced that Wonder Woman's very existence is a danger to Christianity. On the other end of the spectrum is a priest who, confronted by such senseless natural cruelties as prenatal cancer and gods his Bible says should not exist but clearly do, is left to question his beliefs and sets out on a quest to find out the truth, whatever it is. Not everyone is who they appear to be, and behind the scenes sits Ares, the god of war. The faithful on both sides have their hypocrisies and delusions, between which Wonder Woman's friends and allies are buffeted.
In 2003, Pocket Books published a six-book JUSTICE LEAGUE OF AMERICA series, with five titles focusing on one of the core characters of the group (although working in the context of JLA missions) and the sixth, EXTERMINATORS, bringing the whole gang together for a grand old slugfest. In Carol Lay's WONDER WOMAN: MYTHOS, the concept of the all-woman realm of Themyscira is set on its ear with the discovery of a hitherto unknown island populated entirely by men.
The men of the mirror-island are under the command of Wonder Woman's longstanding foe, who is just one powerful object away from unleashing the mighty heat of a volcano that will activate his object and transport his island of men to the real world, which he will then commence to dominate and/or destroy. Lay was a first-time author (and longtime cartoonist with credits in MAD and THE NEW YORKER), and her characters had a tendency to spend a little too much time talking when they should have been acting. Of course, this brings us back to the Guy Way vs. the Woman's Way, and Lay's Diana was definitely a proponent for peaceful conflict resolution. Still, what worked in a short story like "Somebody's Baby" does not necessarily sustain a novel-length story, and MYTHOS leaves the reader wanting a bit more.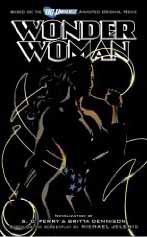 Last but not least is the brand-spanking-new WONDER WOMAN, a novelization of a "DC Universe Animated Original Movie," by S.D. Perry and Britta Dennison. Warner Bros. animation has had recent success with direct-to-DVD PG-13 films SUPERMAN: DOOMSDAY, JUSTICE LEAGUE: THE NEW FRONTIER and BATMAN: GOTHAM KNIGHT, based on DC storylines. Now it's Wonder Woman's turn on the tube.
In this go-round, an evil arises anew, linked to an ancient battle between the Grecian gods and the Amazons, leading to the creation by Hippolyta of the clay image of a baby girl into which the more benevolent gods breathed life, strength, skill, wisdom and beauty. But as anyone with a few years of superheroing experience behind them will tell you, ancient evils never stay buried very long (in the scheme of eternity, that is), and this one is no exception.
And, once again, Ares is the foe du jour … that's in three out of three novels, proving Wonder Woman either needs a stronger cast of villains for future novelists and animator to draw upon, or these guys need to start using their imaginations and coming up with something different for her to do. But this being a novelization of an animated feature, the Ares thing can't be laid at the feet of Perry and Dennison, who do an otherwise bang-up job of fleshing an 80-some-odd minute feature out into an engaging and fun read.
Next time: Stowries for the widdle ones! —Paul Kupperberg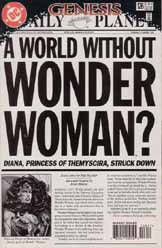 *Funny story there: The storyline Byrne was doing in WONDER WOMAN in the summer of 1997 featured her death and return as a goddess. The cover to WONDER WOMAN #126 was the front page of THE DAILY PLANET announcing her death, with the subtitle "Diana, Princess of Themyscira, Struck Down." Cover dates of comics were then about two months ahead of when the comic went on sale, so that issue, dated Oct. 1997, actually hit the stands in late August. England's Princess Diana died on Aug. 31. Wanna bet management was angry, even though the cover was conceived several months before Di and Dodi ever got into that limo?