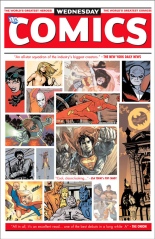 Following up last year's column of books to give for friends and relatives, I present another list of great reads that is sure to please the people in your lives. I'll focus on a few titles that might have slipped you by. Not below but also recommended are Darwyn Cooke's fantastic THE OUTFIT and the Otto Penzler-edited THE BLACK LIZARD BIG BOOK OF BLACK MASK STORIES. And if none of these titles will do, just get a Kindle or an Amazon gift card.
WEDNESDAY COMICS — This 2010 book is big. I'm talking "barely fits into my shelves" big. This collection reprints the entirety of an idea DC did in the summer of 2009, where they serialized a variety of titles weekly in a newspaper format. It's an idea that worked perfectly.
That's not to say all the strips are standouts. There is a clunker or two. But the good totally outweighs the bad, with the best taking the idea of the larger format to really creative conclusions. Case in point: The team-up of Neil Gaiman and Mike Allred works brilliantly, with Allred's art shining and stunning. That they use the character Metamorpho the Elemental Man is just icing to this Pop Art delight.
For his take on space ranger Adam Strange, Paul Pope uses the idea of the large format to great expanse. For those unfamiliar with his style, it might be a bit jarring, but stick with it for a fantastic payoff. Now, for just sheer fun, there is the Supergirl strip done by Jimmy Palmiotti and Amanda Conner. It will make more than a few little girls want to dress up.
Other highlights include a Deadman strip of epic proportions, a giant battle for Superman, the Metal Men trying to stop a robbery, and a Sgt. Rock story that shows Joe Kubert still has the chops. Again, there are a few bumps in the road. I personally could not follow the Wonder Woman strip, and Batman might be a little too dark for the kiddies. Then there is the highly stylized anime look for the Teen Titans, which might not be for everyone's tastes.
But when a strip makes you search out the material to which it's paying homage, the writer and artist have done a great job. Jack Kirby's creation of Kamandi the Last Boy on Earth is one of those 1970s reads should be revisited. And with Dave Gibbons writing and Ryan Sook handling the art, they have created not only a tribute to Kirby, but also a love letter to Hal Foster and his creation of Prince Valiant, whose strip that completely ape to tell their tale.
WEDNESDAY COMICS is a joy to behold and nothing is cuter then seeing a five year old holding the book up to read.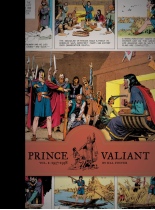 PRINCE VALIANT VOL. 1: 1937-1938 and VOL. 2: 1939-1940 by Hal Foster — I remember fighting over the comics on Sundays when I was growing up. But there was always that one strip you would skip over and wonder, "Who the hell reads that?" I'm referring to Prince Valiant; in more recent years, I've become a fan. And these two collections, from 2009 and 2010, of the earliest run of the series will win over any reader today.
These stories deal with the times of knights and King Arthur. The strip itself focuses on the young prince as we see him grow into the man he would become. This is high adventure in full-page fun. Each strip takes up a page and you can marvel at the amazing work Foster did by himself. It was a work of beauty and terrific to read.
It takes a bit of time to get used to no word balloons in the storytelling, but once you're accustomed, kiss your day goodbye. Fantagraphics has used the original plates to put these two books together. After finishing, I was all set to make myself a cardboard sword and go fight some baddies.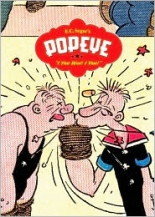 POPEYE, VOL. 1: I YAM WHAT I AM, VOL. 2: WELL BLOW ME DOWN!, VOL. 3: LET'S YOU AND HIM FIGHT! and VOL. 4: PLUNDER ISLAND by E.C. Segar — Closing out the comic-strip portion are the first four volumes of Fantagraphics' six-volume set of reprints. I grew up watching POPEYE cartoons on TV, never knowing it originally was a comic strip, or how completey different the two things were.
What you will learn first is that Popeye was actually a secondary character in a strip called Thimble Theatre; the true stars were the Oyl family, mainly the lovable Castor, but his sister, Olive, too. I mean, in VOL. 1, Popeye does not make an appearance until 27 pages in. But all that changed as Segar relied more and more on this squinty-eyed sailor.
All four books are set up the same way, with the daily strips grouped together, and the Sunday strips in their own section, since they each had their own storylines. Each of these volumes are love letters to the original strips. VOL. 2 has a touching introduction by Mort Walker, creator of Beetle Bailey, who wrote Segar as a child and received a letter and drawing in return, which is reprinted here.
VOL. 4 features one of the strip's first long-term tales in "Plunder Island," which features one of Popeye's more notorious villains, the Sea Hag, and her Goon helper. All the characters you remember from the cartoon are introduced, with Wimpy being a central figure in the bulk of Sunday strips.
When all the books are published, the spines will spell out "Popeye" so you can always keep them in correct order. These collections are real eye-openers for this fan. (It's not until late in VOL. 1 where we find out about spinach.) These are fantastic and will completely wipe away the memory of a certain movie … even though its screenwriter, Jules Feiffer, provides an introduction. (VOL. 5: WHA'S A JEEP? hits in February.)
RAT FINK: THE ART OF ED "BIG DADDY" ROTH by Douglas Nason and Greg Escalante — Have a gearhead in the family? How about a model maker or even a person who has not outgrown his love for monsters? I'm guessing at one point, all of them probably had a sticker featuring the most lovable thing around.
I'm talking about Rat Fink, that green rodent with the bugged-out eyes and a giant R.F. on his chest. This 2003 book is a history of his creator, Ed "Big Daddy" Roth, and all the cool designs he came up with. It's also a loving tribute to the man, who made a career out of making some of the coolest cars ever to drive on a highway.
This book has it all, from the models that were made to photos of how he would create some of his cars. And then there are all those T-shirts that I remember from my youth. It makes me want to dig out my old Hot Wheels and try to find some old model kits.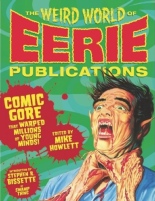 THE WEIRD WORLD OF EERIE PUBLICATIONS: COMIC GORE THAT WARPED MILLIONS OF MINDS by Mike Howlett — I'm halfway through this 2010 book and all I can say is, "Wow!" Talk about going above board and blowing away all expectations. As you can guess, it will appeal to every horror-loving geek out there.
This is the true story of Eerie Publications and the amazing work that was associated with it. And my jaw has dropped more then once. Not a page goes by without some truly over-the-top art originally published in magazine form, all reproduced in top-quality, with the colors just popping off the page.
If nothing else, this book finally put to rest what comic cover it was that scared the living crap out of me in my youth. I'm not telling, but trust me, it was nightmare-inducing for me. Howlett has done his homework with this amazing history of a company that fell by the wayside. If you know anyone with a slight interest in horror or comic history, WEIRD WORLD is a no-brainer.
Just keep it away from impressionable minds, because just look as to what they would become: book reviewers.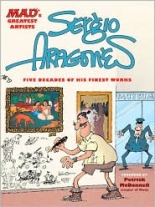 MAD'S GREATEST ARTISTS: SERGIO ARAGONÉS: FIVE DECADES OF HIS FINEST WORKS — When you talk about MAD magazine, certain names pop out: Don Martin, Al Jaffee, Jack Davis and Sergio Aragonés. Last year, at a local comic book convention, one of my childhood idols was there signing and could not have been nicer. As I went up to this man (who resembled his self-caricature) and handed him a beat-up paperback copy of MAD-LY YOURS, he just smiled and said it had been a long time since he saw one of those.
Of course, I'm referring to Aragonés, the man who made the margins of MAD a must-read. He did a little sketch as his signed my book and I just gushed as to how I grew up reading MAD and loving his work. He made the little kid in me want to do the Snoopy dance around the building.
Well, following up the massive and hernia-inducing collection of Don Martin, we have the much-easier-to-handle book collecting Aragonés' output, which he personally picked out. Each section is broken down into the decades they were published. Plenty of memories flooded back whenever I came across a piece I read as a kid.
Make sure to check the margins for even more Aragonés. I mean, would you expect anything less? Also included in a giant foldout poster of Aragonés' favorite marginals. This book is perfect for anyone who likes to laugh — even the little ones who might not be able to read, since the bulk is comprised of silent gags; it's the art that tells the story.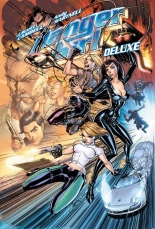 DANGER GIRL: THE DELUXE EDITION by J. Scott Campbell and Andy Hartnell —  My days of picking up comics weekly was filled with some great titles, some of which took their damn time coming out. Some companies would repackage their titles in collections to entice buyers to repurchase that work all over again. I mention this because DANGER GIRL, the story of a group of female spies, was one of the biggest offenders.
For a series that was only seven issues long, it sure has a ton of collections. A few years ago, there was an ABSOLUTE version that quickly went out of print, which is a shame since the comic shines in an oversized format. Yeah, nothing better than skintight costumes and gravity-deifying bodies. But if that was all the comic was, I would not be sitting here telling you to purchase this brand-new 2010 reprint, which not only includes all the covers and issues, but adds material never before collected.
The comic deals with a group called Danger Girl, which is sort of like James Bond mixed with CHARLIE'S ANGELS. Or to put it even better, the greatest action movie never made. Campbell's art is the main selling point. Sure, these woman are what you could call extreme depictions of the female form, but the story that keeps you stuck.
Everything that was part of the ABSOLUTE package is here, such as the introduction by Bruce Campbell. And it's always fun to think of the girls who could play these parts. But I'll leave that to you … —Bruce Grossman