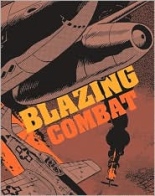 If war is hell, BLAZING COMBAT is heaven.
In the mid-1960s, Warren Publishing put out four issues of the quarterly, black-and-white war comics magazine, before government censorship, American Legion outcry and skittish wholesalers effectively killed it. The title's crime? Putting a true face on war that ran opposite to the rah-rah rosy one sold by the feds.
Decades later, when "war" is pretty much a synonym for "futile," Fantagraphics has collected the mag's entirety for the first time, and although the subject matter is bleak, the presentation it's been given is beautiful. This is as good as war comics get.
In short, six-page bursts, writer Archie Goodwin presents stories of heroism, courage and bravery — sometimes for good, sometimes for naught. Although the series' Vietnam War stories were what put it in the hot seat, COMBAT covers a swath of skirmishes: both World Wars, the Korean War, the Revolutionary War, the Civil War — even the Battle of Thermopylae.
Standouts include "Enemy!," in which an American fighter kills a German one for no reason, assuming no one cares; "Foragers," of whom one is a soldier more interested in stealing from innocent civilians than facing the enemy; "Survival!," a narrative of a man scouring for food by any means necessary; and "Souvenirs!," wherein a G.I. delights in robbing foreign corpses of their gold teeth.
The EC influence is all over these tales, which typically build toward a twist ending, often to point out the grim situation of global conflicts (perhaps none better than "Long View!"). It's serious stuff, aiming for realism than escapism. It should be noted while it's not exactly patriotic, it's not exactly antiwar, either. It just is. Not all stories hit as intended, but those that do, do so with a closed fist.
Goodwin's scripts benefit from an impressive stable of legendary artists, including John Severin, Alex Toth, Wally Wood, Angelo Torres, Joe Orlando, Reed Crandall Gene Colan and others. Frank Frazetta painted the covers, which are shown in the back, but would have been nice to see in their full size.
Making COMBAT even better is a pair of interviews conducted by Michael Catron, with Goodwin and publisher James Warren. Both discuss the magazine's inception, creative process and eventual demise with refreshing candidness; such looks are fascinating to those interested in the publishing world.
Adam Grano deserves special mention for designing this book; in cover, endpapers, table of contents and other supplementary pages, the package is sumptuous — a deluxe, respectful treatment, yet one that won't break the bank. As good of a job Dark Horse has done on Warren's CREEPY and EERIE reprint collections, this one rests on a higher plane.
There's plenty more Warren output out there from yesteryear; I'd love to see Fantagraphics rescue it. —Rod Lott