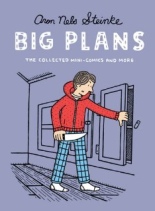 Based in Portland, Ore., Bridge City Comics has ventured into the book-publishing game (are they crazy?!?), and in my worthless opinion, couldn't have picked a better project to launch with than Aron Nels Steinke's BIG PLANS. And not just because of the hopey-dreamy title.
Nope, the reason is that Steinke is a flat-out fantastic indie cartoonist who deserves however wide exposure this book may bring his way. While I had seen work from him before geared toward kids (NEPTUNE), I'm happy to say his work for adults is equally charming. Maybe even more so, this being nonfiction.
This compact brick of a paperback collects all five issues of his BIG PLANS mini-comics, plus assorted stories from assorted zines and whatnot. All depict events from his life, happy and otherwise, like that one time when he …
• and his now-wife were sure that one guy boarding their flight was a terrorist;
• got to go to the Academy Awards, where he delighted in seeing his nemesis (a not-so-thinly veiled Bill Plympton) lose the animated short film category;
• ignored his brother's appendicitis because he was killin' it on the Super Nintendo; and
• helped his wife play detective after her laptop was stolen.
Steinke's art can be measured in really thick lines, clean spaces and pleasant geometry; his wit wins through heaps of honesty and openness. I read the entirety of BIG PLANS in about 90 minutes, and it left me both satisfied and wanting more. So more, Steinke, more! —Rod Lott
Buy it at Amazon or Bridge City Comics.