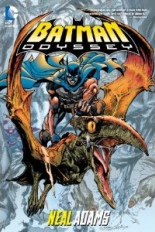 Scene: DC Editorial Offices
Enter Neal Adams: "Hey, guys, I've got this idea for a Batman mini/maxi-series, and not only will I write it, but I'll also do all the art!"
Cut to the image of DC staffers being sent into a world of dollar signs. Says one, "Having the premier Batman artist coming back to a character that he positively owned in the 1970s? You bet!"
I get the feeling that is close to what happened with BATMAN: ODYSSEY. Then reality set in, and the comic started to come out. I could take the easy route with a simple, two-word review: bat-shit insane. But that only slightly grazes upon the sheer "what the hell is going on" of it all.
Let me state a few things:
1. I'm a huge Neal Adams fan.
2. I actually picked up these issues as they came out, so I've read them before this collection …
3. … and I still have zero fucking idea what the hell happened.
This is truly one of the most bizarre comics collections out there; even Grant Morrison and Warren Ellis would be dumbfounded by parts of this. The comic is set up with Bruce Wayne in the Batcave talking to an unknown person about this adventure. This goes on for the whole story. It starts out somewhat normal, then takes a super-quick turn to Crazy Town. We watch as Batman deals with a train hijacking. After this opening salvo, things get weird.
Where to start? I have no idea. But here are some of the highlights:
• Man-Bat makes a pointless appearance;
• Deadman becomes tangible; and
• a neanderthal Batman has an evolved dinosaur as his sidekick, Robin.
The bulk of the story — and I'm not joking — falls into Adams' scientific beliefs: those of the hollow-Earth variety where giant dinosaurs still live and giant bats are ridden around doing battle.
Still with me? Then order the book already, because I'm really not doing justice to its true nuttiness. A friend of mine summed it up best: "It's one of the greatest art books out there; I just wish there were no dialogue balloons."
Did no one at DC dare question Adams or even suggest maybe he should team up with Dennis O'Neil, who could come up with a more coherent plot?
But I'll be honest: If I ever get a chance to meet Adams again, ODYSSEY will be the book I have him sign. Also if DC ever collects this as an ABSOLUTE edition, I will order one.
So I'll just close this review out with one more sentence: Batman rides dinosaurs and giant bats … and that's the most normal thing that goes on. —Bruce Grossman