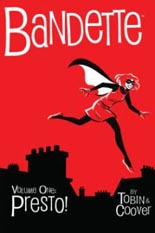 I spend an inordinate amount of time sorta despairing over comics. They've been such a huge part of my life for basically all of it that it's tough now that comics don't want me around anymore. It can take something big to remind me that well-crafted fun can still be had in little square panels, even when the character wears a mask and cape.
Look, it would be irresponsible of me to say that BANDETTE will save comics. But holy cats, you guys, a bunch more books like BANDETTE would save comics. Real talk.
BANDETTE VOLUME ONE: PRESTO! by Paul Tobin and Colleen Coover is available in individual digital issues from MonkeyBrain Comics and soon in dead-tree format from Dark Horse Comics. This wonderful little farce chronicles the tale of the world's (other) greatest thief, Bandette. She only steals from bad men; lives in Paris; has a team of devoted Urchins;, cultivates allies on the police force by helping them catch thieves with less panache than herself; developed a friendly rivalry with Monsieur, the world's other greatest thief; and fell into an unfriendly rivalry with Absinthe, the boss of a world class criminal organization.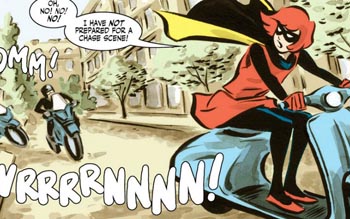 Bandette is lovely, carefree and essentially traipses through life with a song in her heart and witty banter on her lips. (Seriously, the fight scene with Matadori is worth it just for the repartee alone.) Her favorite word — indeed, her entire philosophy of life — is "presto." When she does something apparently impossible with the kind of ease the rest of us equate with breathing, she exclaims, "Presto!" When something breathtaking in its beauty happens, either by simplicity or her own byzantine design, she breathes, "Presto." When Bandette defies death, she smiles at her old friends Peril and Impending Doom while invoking, yes, "Presto."
As Bandette says to Matadori, the greatest swordswoman in the world and master assassin, "You have a sword. I have 'presto.' The odds were not in your favor."
Bandette purposefully looks and reads like a European adventure comic. The language is sometimes overly formal, almost stilted, as though it were translated into literal English from the original French. (Although if it can lilt stiltedly, it does so.) Coover has incorporated lessons from many European artists while never losing sight of her own unique style.
The action scenes are breezy and exciting; the faces are openly expressive in a cartoonish, but not buffoonish way; and at least a third of the story is told through body language. If you've ever enjoyed Tintin — or felt like you should, but found it too Belgian — then you need Bandette in your life.
BANDETTE is all derring-do from a sweet heroine, joie de vivre by the gallonful, thrills, grins, winsome, wit and just enough romance to induce the warm fuzzies while falling well short of nausea.
And so, Bandette, we meet at last — which is something I've always wanted to say, even before I knew I wanted to say it. —Joshua Unruh