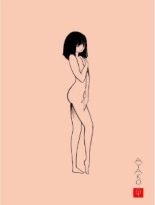 With a spine as thick as your wrist and holding more than 700 pages, you have every right to be intimidated by Vertical Inc.'s hardcover reprint of Osamu Tezuka's AYAKO.
Those who know the Tezuka name know the truth, and find such a high page count more as a reward than a challenge. It's to his storytelling genius that this graphic novel, originally serialized between 1972 and 1973 in Japan, needs almost every one of those pages to be there.
So don't give into fear! Dig in! Prepare yourself to spend some time with this one … and potentially to be quite disturbed.
It begins seemingly as a spy story, in 1949, with Jiro Tenge returning home as a prisoner of war with a patch over one eye. Behind it, sits a scroll full of presumed secrets, which he's smuggled and delivers to the Japanese government. But AYAKO isn't about Jiro. It's about his entirely fucked-up family.
For patriarch Sakuemon, preserving the "honor" of the Tenge name is everything, which is why he rejects Jiro as a failure because he spent time in a P.O.W. camp. However, Sakuemon is not exactly a role model for the family, what with carrying on a forced affair with his daughter-in-law, whom he gets pregnant.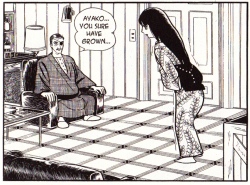 That ungodly union results in our titular character, Ayako, who is both Sakuemon's daughter and granddaughter. There's more, as Sakuemon shuns his own wife, Jiro's brother is in denial for the love of greed, and eventually, murder rears its ugly head. All the while, Ayako lives in secret, locked in the family basement, so that the Tenge name remains unsullied in the public eye. (And you thought Tezuka's MW and ODE TO KIRIHITO were tragic!)
With such an upbringing, of course, Ayako cannot develop normally, and that's when the most unsettling aspects of Tezuka's story take hold. It's sick to think about, but the subject matter is not done for shock value.
Needless to say, AYAKO is an epic. Spanning the years of 1949 to 1973, it focuses on three generations of one dysfunctional clan, yet fires on all cylinders to address in depth themes that are political, sociological, psychological and sexual. If the ending seems a little too steeped in melodrama, at least its tragic nature is wholly appropriate. This is another stick-with-you masterwork from a man who produced more of them than should be humanly possible. —Rod Lott