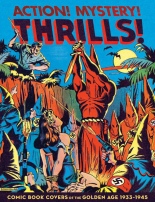 How incredible it must have been to walk into a drugstore and be greeted with a wall of that week's comics, from OUR FLAG COMICS to BLACK HOOD TOP NOTCH. Or to approach a newsstand to find all your favorites hanging on clothespins right above your friendly newsagent, including BLUE BEETLE and WORLD'S BEST.
This was the way it used to be. I know it. The proof is in the photos that open ACTION! MYSTERY! THRILLS! COMIC BOOK COVERS OF THE GOLDEN AGE 1933-1945, Greg Sadowski's pictorial celebration of the time when comics were still called "comic magazines."
It's the same time when Will Eisner was credited as Bill or William, when no one would blink at a Native American in full headdress saying, "White man leave trail here!" (not to mention a big-lipped, Stepin Fetchit character named Whitewash), when entire titles were based on radio programs (Google it, kids), when they sported cover lines that promised "ADVENTURE-FLYING-MYSTERY-COMIC STRIPS-STORIES-MOVIES-SCIENCE-PRIZES" — and all in the same issue, mind you!
No stranger to editing expertly assembled books for Fantagraphics (see: SUPERMEN! and FOUR COLOR FEAR, both highly recommended), Sadowski here has collected and presents chronologically 176 "classic covers." What makes this awesome in an age where Internet design is influencing art books in a negative sense is that each cover fills one page, and in full-color. Being that they come culled during the World War II era, a lot of them feature Hitler.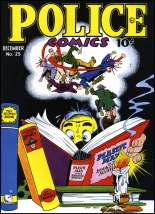 From a child newly seduced by comics to a middle-aged man whose attic is filled with boxes of them, ACTION! MYSTERY! THRILLS! can be enjoyed equally by all ages. I will say, however, that the more you know about comics history, the more you'll get out of it. For example, we know Jack Cole by and large for Plastic Man — and while Plas is here in POLICE COMICS, it's more interesting to see Cole's illustration of something entirely different, too: a Snuffy Smith type riding a patchwork horse.
While the pages are filled with iconic characters — including, just to name a bundle, Superman, Batman, The Human Torch, The Shadow, Dick Tracy, Mickey Mouse, Donald Duck, Captain America, the Green Lantern, Blackhawk and Sheena — the value lies in seeing forgotten heroes getting equal weight. Who remembers the likes of:
• Skyrocket Steele?
• Spark Stevens of the Navy?
• Rex Dexter of Mars?
• Shock Gibson the Human Dynamo?
• Mob-Buster Robinson?
• Hurricane Kids?
• Rang-a-Tang the Wonder Dog?
• Blanca the Jungle Queen?
• Hip Knox Super Hypnotist?
• Grease Monkey Griffin?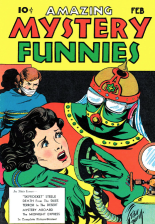 I sure as hell don't, but half the fun is learning they existed, as did obscure titles with sometimes self-contradictory monikers as KEEN DETECTIVE FUNNIES and REG'LAR FELLERS HEROIC COMICS.
Regardless of your recall, there's a treasure on every page — even the logos alone are amazing. And just when you think it's a bit of a cheat for Sadowski to slap together some covers and get away with putting his name on it, the final section pairs thumbnail reprints of the same covers, this time accompanied by his commentary. It's a miniature history lesson that's no chore to sit through.
Taking in each page separately and slowly, I was instantly transported back to a similar book my mom brought home to me back in 1979, when I was 8: THE GOLDEN AGE OF COMIC BOOKS, 1937-1945, by Richard O'Brien and published in '77. It contained "only" 40 covers, but I wanted to frame them all even though I was unfamiliar with a majority of its chosen subjects.
I still have that book — now well-worn — but what the 8-year-old me thought with it is exactly what the 41-year-old me thinks of Sadoswki's: Comic books may be better written today, but the covers aren't nearly as cool. —Rod Lott