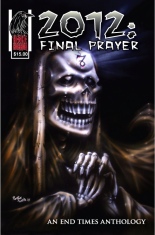 While reading Heske Horror's graphic end-times anthology 2012: FINAL PRAYER, one thought kept running through my mind. No, not "Oh, my God, we're all going to die!," but "James Warren would've been all over this."
Warren, of course, was the impresario behind Warren Publishing, whose output of black-and-white magazines like CREEPY, EERIE, VAMPIRELLA and other, more short-lived titles helped define a more adult alternative to comic books in the 1970s. In this 154-page one-shot paperback, Robert Heske remains true to Warren's independent spirit, with illustrated stories a bit edgier than the mainstream, but not so subversive as to exist in the underground.
2012: FINAL PRAYER also rides the coattails of Roland Emmerich's latest disaster film, 2012. I'd much rather re-read this book a third time than watch that movie even once. Naturally, both key off the upcoming date of Dec. 21, 2012, which the Mayans have long predicted will be the end of civilization. I don't buy into that theory — nor do most of the contributors, I sense — but it's a dandy concept for graphic fiction.
In the first section, "Apocalypto," we see the events of the last day on Earth from the perspective of several people. One piece in particular — by Shamere Borg, Xander Bennett and Melanie Cook — uniquely tells it from five perspectives simultaneously. None end happily, of course.
Things get weirder in the "Out There" section, anchored by Arno Hunter and David Edwards' "Bird's Eye View," in which the end times are witnessed from space by a crew aboard the NASA space shuttle. The "Altered States" section is comprised of more personal, relationship-centered stories, while "Gallows Humor" follows with a pair of funny takes. Dino Caruso and Sami Kavela's over-the-top "Hollow Victory" is the standout here.
Finally, the "Day After" section looks at the after-effects of a mass-extinction event. Duncan Eagleston kicks it off with a violent tale of the wandering, sword-wielding "Harkinton," followed by three brief prose stories, including one from BOOKGASM contributor Jason Light.
With roughly two dozen entries (intro and afterword included), there's a lot to like in 2012: FINAL PRAYER. If you encounter a dud or two — and you will, as a few selections are woefully underdrawn — you need only turn the page to the next story to get back on track.
As fringe groups in our country continue to panic about societal collapse, this collection proves cathartic. Its varied contents may not always be the most polished, but do you really expect the end of the world to be all that tidy? —Rod Lott
OTHER BOOKGASM REVIEWS OF HESKE HORROR:
• COLD BLOODED CHILLERS: TALES OF SUBURBAN MURDER & MALICE #1 / #2
• COLD BLOODED CHILLERS: TALES OF SUBURBAN MURDER & MALICE #3