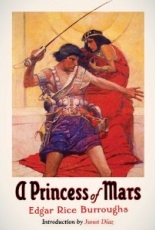 I don't really re-read that much stuff unless something calls for it years later. Case in point: Edgar Rice Burroughs' 1912 novel, A PRINCESS OF MARS, and its resulting series. The film adaptation, JOHN CARTER, crashed and burned last month as one of Hollywood's biggest flops ever, plus Library of America has released a new hardcover edition with a pulp-inspired cover and an introduction by novelist Junot Díaz. So I figured I would revisit the time spent on Barsoom — that's Mars, for those of you who don't know.
Burroughs is probably the pulp master, having created not one but two distinctive characters in the genre, one being Tarzan and one being PRINCESS' hero, John Carter, a Civil War vet who is mysteriously transported to Mars, where he is met by alien creatures called Thraks.
These Thraks are giant, green, four-armed, lizard-like beasts. Carter soon finds out he has some sort of super strength on Mars. (Sound familiar, comic fans? An alien who comes to Earth and discovers the same?)
Carter rises to power and respect in the tribe because of his newfound abilities. The Thraks actually capture a beautiful red Martian princess named Dejah, for whom Carter has fallen, so he goes off to save the damsel in distress, leading to him having to sacrifice himself for the better of the planet.
I have long loved this type of stuff, from its aliens to its swordfights. How cool is that? If you've never read any Burroughs, shame on you. Carter comes back for two more books before the series switches to other characters in an 11-book franchise.
Library of America simultaneously has re-released Burroughs' TARZAN OF THE APES with the same treatment. —Bruce Grossman