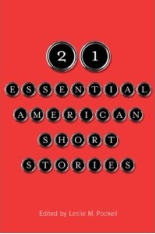 Leslie M. Pockell, you have my thanks. Because you remain true to the second word in the collection you've edited, 21 ESSENTIAL AMERICAN SHORT STORIES, I can clear my shelves of several other anthologies I was keeping around for a single tale or two. You have excellent taste.
Chances are, many readers will be familiar with most of the stories in this volume; several are all-time favorites of mine since being taught them in school. I can recall being a student who didn't particularly care much for reading, but experiencing a jolt of joy in English class when introduced to Shirley Jackson's "The Lottery." Talk about an eye-opener.
Same with other stories I first ran across as assignments in our textbooks: Charlotte Perkins Gilman's ever-disturbing "The Yellow Wallpaper," Ambrose Bierce's tense "An Occurrence at Owl Creek Bridge," O. Henry's ironic "The Gift of the Magi" and Frank Stockton's "The Lady or the Tiger?," which could be the only short story to get away with not having an ending.
Pockell makes some interesting choices with some usual suspects, perhaps most notably in Edgar Allan Poe, whom he represents not with a horror tale, but a detection one with "The Purloined Letter." The inclusion of Washington Irving's "Rip Van Winkle" makes sense, while Joel Chandler Harris' "Brer Rabbit and the Tar-Baby" may catch you off-guard.
Other authors making Pockell's cut are Mark Twain, Herman Melville, Stephen Crane, Jack London, F. Scott Fitzgerald, Ernest Hemingway, Edith Wharton, James Thurber, William Faulkner and that esteemed man of letters, H.P. Lovecraft. Surprise! —Rod Lott