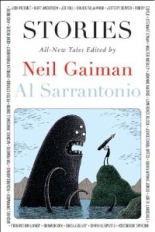 "And then what happened?"
According to Neil Gaiman, those four words are the most important a reader can ask when making his or her way through a story — an absolute need to see it through to the end. Co-editing STORIES, Gaiman and Al Sarrantonio have assembled 27 all-new tales from an all-star cast of authors, most of whom manage to provoke that quartet of all-important words.
Sarrantonio is an excellent horror author, but when the guy edits a genre anthology, the end result is definitive. He's done it for speculative fiction (REDSHIFT), he's done it for horror (999) and he's done it for fantasy (FLIGHTS), with the last two being among my all-time favorites. And now he's done it for … well, just damn good yarns.
STORIES actually toes the line among several genres, without fully committing to any one in particular. It begins with Roddy Doyle's riff on vampirism in "Blood," before moving on to Joyce Carol Oates' twisted take on twins, in "Fossil-Figures." Gaiman himself stuffs an epic fantasy into less than 25 pages in "The Truth Is a Cave in the Black Mountains."
Only slightly subdued from his norm, Joe R. Lansdale's touching "The Stars Are Falling" tells of a man who returns from the war to find his family not as he left it, while Jodi Picoult examines a husband and wife coping with the loss of their daughter, in the rather moving "Weights and Measures." (Does this woman write anything other than tragedies?)
The serial killer of Lawrence Block's "Catch and Release" compares his grisly trade to the sport of fishing. Loopy as ever, Chuck Palahniuk takes a taping of THE PRICE IS RIGHT into bizarro territory with "Loser," which is better than his last two novels. Twin sisters of Carolyn Parkhurst's "Unwell" proves that the ties that bind families may be awfully frayed.
I never knew quite where Jeffery Deaver was going with "The Therapist." That's a good thing, and unpredictability in short stories is something at which he excels. With a voice from the dead, Tim Powers goes for the supernatural in "Parallel Lines," and Sarrantonio disturbs with a historical conspiracy wrought through photos in "The Cult of the Nose."
While I appreciate what Joe Hill tries to do with "The Devil on the Staircase" — with prose broken up into stair-like patterns for visual appeal (except when it inexplicably ceases to in the middle, apparently at random) — the story is incomprehensible. That's disappointing, since he writes some of the best stories around.
And that's just scratching the surface. STORIES also boasts efforts from Michael Marshall Smith, Walter Mosley, Michael Swanwick, Peter Straub, Jeffrey Ford, Diana Wynne Jones, Stewart O'Nan, Gene Wolfe, Jonathan Carroll, Kurt Andersen, Michael Moorcock and Elizabeth Hand … and even that's not all of them.
In contrast to the fast-food reads you see people at the pool burying their sunburned noses into, STORIES is a fine meal to chew slowly and savor. You'll more than get your money's worth out of it. Over and over, you'll find that chill running up your spine to signify a satisfying read, and over and over, you'll find yourself wondering … yep … "And then what happened?" —Rod Lott
OTHER BOOKGASM REVIEWS OF NEIL GAIMAN:
• ANANSI BOYS by Neil Gaiman
• BEOWULF: THE SCRIPT BOOK by Neil Gaiman and Roger Avary
• BLUEBERRY GIRL by Neil Gaiman and Charles Vess
• DONT PANIC: DOUGLAS ADAMS & THE HITCHHIKER'S GUIDE TO THE GALAXY by Neil Gaiman
• FRAGILE THINGS: SHORT FICTIONS AND WONDERS by Neil Gaiman
• THE GRAVEYARD BOOK by Neil Gaiman
• ODD AND THE FROST GIANTS by Neil Gaiman
OTHER BOOKGASM REVIEWS OF AL SARRANTONIO:
• FLIGHTS: EXTREME VISIONS OF FANTASY edited by Al Sarrantonio
• HALLOWEEN AND OTHER SEASONS, by Al Sarrantonio
• HALLOWEENLAND by Al Sarrantonio
• HALLOWS EVE by Al Sarrantonio
• HORRORWEEN by Al Sarrantonio
• 999: TWENTY-NINE ORIGINAL TALES OF HORROR AND SUPSENSE edited by Al Sarrantonio