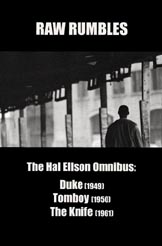 There's a new publisher in town called Rudos & Rubes Press, and it comes out with zip guns a-blazin', putting together a trio of jaw-dropping juvenile delinquent literature from Hal Ellson, titled RAW RUMBLES: THE HAL ELLSON OMNIBUS. Starting it off is a fantastic and informative essay by Miriam Linna, owner of Norton Records and publisher of BAD SEED zine, who goes into the complete history of Ellson and how she befriended him. All three of the books contained within are discussed, with an added closing postscript since her original piece was written long before Ellson's death in 1994.
Kicking off this juvie reading spree is 1949's DUKE. Now, any work that has a glossary of terms for the slang being used is already No. 1 in my book, but what was scary was how many terms I already knew. Duke is the leader of a gang called The Counts. Just 15 years old, he already has gotten into many a scrape.
We watch Duke as he goes about his life, inside and outside of the gang, starting with the home life that pretty much leads him into gang life. Mother is either at work, at home cooking or dealing with his father, who is drunk most of the time. Dad claims that he looks for work, but always turns up at home inebriated and belligerent. When he's not involved with his gang, Duke runs drugs for the local pusher.
This story pulls no punches at all and feels so realistic, you'll believe these kids exist. This not the Sharks or Jets, folks, but a rough crowd that seems to be the inspiration for the gangs in LAST EXIT TO BROOKLYN. Ellson expertly details this lifestyle that must have been a shock in its day of publication. From the descriptions of various beat-downs to the gang's attempts at making money by pimping out girls, nothing is sugarcoated in Duke's violent world.
Meanwhile, 1950's TOMBOY looks at the gang aspect from a different view: a girl. Tomboy — we don't know her real name until later — is not like the other chicks in The Harps; she's more mannish in her ways, yet has a crush on Mick, a fellow member, doing things for him and even stealing gifts for his affection. The problem is that Mick comes off as very asexual, never making a play for Tomboy or any of the girls.
Tomboy pull off heists of liquor, toys and such, all while trying to keep her femininity in check. Even when girls call her out on being mannish, there is hell to pay. Now if in DUKE, we only get a glimpse of the gang lifestyle, in TOMBOY, it's even more spelled out, from the brutal initiation procedures to the treatment of the debs and their true purpose. Ellson throws the reader into the deep end in this world, while we watch Tomboy deal with a loss and the growth within herself, finally coming to terms that she might just have to break free from her family and the gang.
Closing out this trio of teen crime is 1961's THE KNIFE, the shortest of the three. Young Nick is the member of a gang, but the story focuses more on him going through the penal system, including a old-school police interrogation where he gives up nothing, to be sent off to a place called Ravenwood, which is run by men called Brothers.
These brothers don't take any crap from anyone. Nick can't deal with the situation, so he runs off to his mother. While she is happy to see her son, she understands he escaped. Nick figures he'll hide out and find a job, but all of this is to no avail. He's sent back to Ravenwood, only to break out again. But this time, his mother has remarried and his new stepfather is none too pleased.
Ellson paints a picture of a lost cause in Nick so well. Even when you think the kid has gotten his act together, he just screws it up, causing a major problem within the new family structure. Even Nick realizes his future is pretty much spelled out for him and readily embraces it.
As far as I'm concerned, anyone with any interest of real juvenile delinquent literature would be hard-pressed to find a better collection. Not only has Rudos & Rubes put together a top-notch collection, but it's also providing much-needed recognition to a writer who was never given any in his day, when his works were originally put out as throwaway paperbacks. —Bruce Grossman