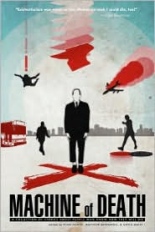 Although it may not prove to the year's best anthology, MACHINE OF DEATH certainly will carry the most street cred. For the project, editors Ryan North, Matthew Bennardo and David Malki have culled 34 original stories on one theme, paired them with 34 original illustrations, and offer the results under one (mostly) Creative Commons license, both as a standard paperback and for free download — e-book and/or audiobook.
That aforementioned theme is that technology has progressed to the point where there's a gadget that can tell you the method by which you die — no date or anything like that, just the means. The stories sport the names of such misfortunes — i.e. "Prison Knife Fight" and "Improperly Prepared Blowfish" — but don't always apply to the protagonist.
In Camille Alexa's "Flaming Marshmallow," a girl anxiously awaits her 16th birthday, making her the legal age to visit the Machine of Death and learn her fate. David Michael Wharton cleverly examines the issue of "Suicide" with a surprise ending, while John Chernega journals the testing of the machine in "Almond." Sherri Jacobsen's "Love Ad Nauseum" plays out via a series of personals ads, and Alexander Danner puts a twist on suburban adults playing parlor games in "Aneurysm."
The funniest is Brian Quinlan's "HIV Infection from Machine of Death Needle," and it's only one sentence long. No, I'm not telling you what that sentence is; it would ruin the joke. The most touching is James L. Sutter's "Miscarriage."
Not funny: There are two stories titled, inevitably, "Cancer." Eff you, cancer!
With a little genre-hopping and excellent illustrations from the likes of Jeffrey Brown, Shannon Wheeler and Kean Soo, MACHINE OF DEATH is unlike anything you'll read this year. That's a good thing, people, provided it doesn't kill you. —Rod Lott